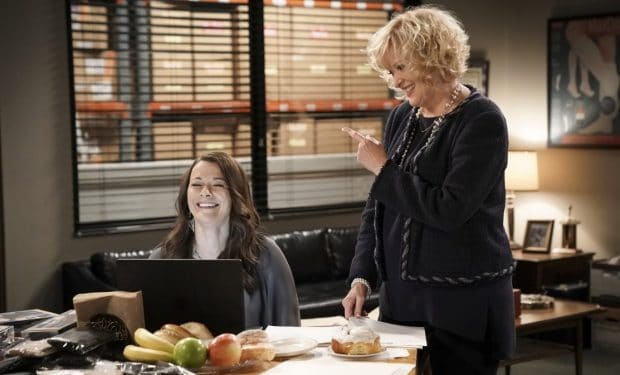 Christine Ebersole's acting resume is nothing short of outstanding. At this point in her career, you've definitely seen her in at least one show or movie you love. With a career that has spanned the course of six decades, has left her mark on dozens of movies and TV shows. Well-known for her ability to play any kind of character, Christine's versatility is what has truly set her apart. Her most recent role in the series Bob Hearts Abishola has introduced's Christine and her talents to a new generation of viewers. Now in her late 60s, Christine is still going her thing and she doesn't have plans of stopping any time soon. Keep reading to learn 10 things you didn't know about Christine Ebersole.
1. She Was In An Episode Of Hey Arnold
Cartoons certainly aren't the first thing that come to mind when people think of Christine Ebersole, but she does have experience working on animated projects as a voice actor. Many people will be surprised to know that she actually had a voice role in an episode of Hey Arnold in 1996.
2. She's A Formally Trained Actress
Christine's well of natural talent is undeniable, but she's also put in a lot of hard work to sharpen her skills as much as possible. After briefly from MacMurry College during the 70s, she went on to study acting at the American Academy of Dramatic Arts. Other well-known AADA alum include Sarah Paulson, Jennifer Coolidge, Anne Hathaway, and Paul Rudd.
3. She Plays The Violin
Christine is truly a performer at heart and that was clear from an early age. She has a knack for entertaining people even when it doesn't involve acting. She grew up playing the violin and was a part of the orchestra during her time at New Trier High School in Illinois.
4. She's A Tony Award Winner
Many people are most familiar with Christine from her on screen work, but she's had a very impressive theater career as well. She has performed in several Broadway productions and she has earned two Tony Awards: one in 2001 and another in 2007. Both were for Best Leading Actress in a Musical.
5. She's A Wife And Mother
Christine has been devoted to her career for much of her adult life, but that isn't the only thing that she has been focused on. She married musician and actor William Moloney in 1998 and the couple has three children together. Christine was married once before, to Peter Bergman from 1976 to 1981, but they did not have any children together.
6. She Doesn't Have Any Verified Social Media Accounts
With a career as long and successful as Christine's, there are probably a lot of people who have searched for her on social media. Somewhat surprisingly, however, she doesn't appear to have verified accounts on any social media platforms. Although there are profiles that use her name and picture, it's unclear whether they actually belong to her.
7. She's A Singer
Christine has had to do a lot of singing throughout her theater career, but her love for music extends far beyond being a necessity for acting. She has also done several concerts and won a Nightlife Award in 2010 for Outstanding Cabaret Vocalist in a Major Engagement.
8. Theater Is Her Favorite Medium
Christine is incredibly thankful for all of the success she's found on screen, but theater will always have an extra special place in her heart. She told Dig Boston that theater is the "most fulfilling" for her. She added, "But the value of doing film and television has never been diminished for me, it's just a different experience. I think live theater is the most sustainable, in terms of your interaction with the audience. They give you your fuel."
9. She Doesn't Wear Jeans
Jeans are usually a big part of most people's wardrobe. Not only are they comfortable, but they can be dressed up or dressed down to be appropriate for a wide range of occasions. For some reason though, Christine isn't a big fan of changes. She has been quoted saying, "I don't wear jeans," but we weren't able to find any explanation as to why.
10. She Has More Than 80 On Screen Credits
No matter how talented or successful an actor is, being cast in a role is always a huge accomplishment. After all, the entertainment industry is very competitive and there's always someone else who is hoping to take your spot. With that being said, the fact that Christine has more than 80 on screen credits is certainly a huge achievement.
Tell us what's wrong with this post? How could we improve it? :)
Let us improve this post!