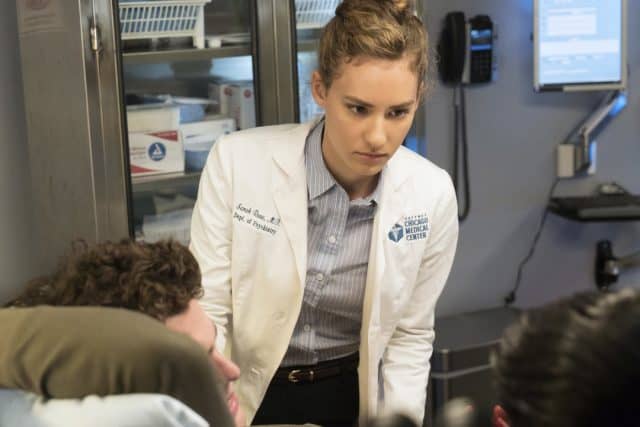 Any good doctor needs to pay attention to the latest medical breakthroughs, even create the latest medical breakthroughs. They also need to remember the lessons of the past, to never take for granted experience. Both of those value points are encompassed in this week's episode of Chicago Med. Different cases of past and future work cohesively, and one doctor just has to break out of the medical mold completely to save a patient's life.
Maggie is ready to pull her hair out with the patient overflow. It's so bad that patients have to wait in the hall. In her quest to find places to put patients in the hospital, she comes across a room that the doctors believe is unlucky. Not even Dr. Rhodes will place his patients there. Desperate times call for desperate measures, so Maggie asks Dr. Rhodes for a favor. Remember the owner of the Hawaiian bar Dr. Rhodes frequents? Well it just so happens the man is also a shaman, or a Kahuna. Believe it or not his explanation for the bad feeling in the room sounds scientific. Dr. Rhodes needs to pay more attention to the subtler lessons of medicine
Dr. Rhodes's working relationship with Dr. Latham really hasn't moved past its tenuous civility. Neither one is overly disrespectful or confrontational, they're just completely different doctors. Dr. Latham has a different approach, different intuition, and different experience than Rhodes does. He can tell without a machine that a patient's recent heart valve procedure is a failure. It really makes Dr. Rhodes wary of the way he draws conclusions on a case. Which is why he doesn't turn away Dr. Halstead's patient when Halstead says he can tell with his hands the patient has a dead bowel. It's a lesson to learn from the past. Dr. Rhodes gets back to basics listening to archived medical tapes, and Dr. Halstead pays his old mentor a visit. Though she now suffers from some form of dementia, she appreciates Dr. Halstead thanking her for teaching him.
From the past, to the future. Dr. Choi's teenage patient decided to use her own body as a medical test subject. It was ridiculous and dangerous, but the motive behind it wasn't. This young girl loves medicine so much she decided to spend her free time in a converted basement lab doing experiments with her friends. Dr. Choi is so fascinated by it that he goes to see the lab for himself, and he spreads the word to someone who needs the pick-me-up. Dr. Manning's young Non-Hodgkins Lymphoma patient is in awful shape, but when the parents ask if their daughter will pull through she says yes. She ends up kicking herself for giving them hope when there might not be any. Hope is hope, how can it be false? It's not a promise, it's a chance, no matter how big or small. Dr. Manning's patient dies, but there's still hope for others. She is also amazed by the basement lab. It really is an amazing place where the kids feed off of each other to create these amazing trials. Nothing else has worked so far, so Dr. Manning puts the kids onto lymphoma. Why not put the next generation of doctors to the test?
Reese has had this sneaking suspicion that she's been followed for awhile now. It's nothing in deep, dark shadows that would cause a huge alarm, just a feeling. Reese has been being followed, by her sex trafficked patient from a few weeks ago. Danny comes to Reese for help because he's on the brink of suicide. Reese plans on seeing Danny outside the hospital so that he can feel safe getting treatment, but Dr. Charles nixes this idea right away. That's improper medicine which puts the patient in danger, and puts Reese at risk for physical and psychological danger herself. That's not to say that Reese shouldn't care, or that nothing can be done. In cases like this it's best to ask for help. Detective Lindsay advises Reese on how to approach the situation in a way which doesn't put Danny in danger. Danny has been so psychologically traumatized on top of the physical fear for his life that he gets spooked. He does take to heart what Reese says about getting help. Danny tries to carve out the chip his kidnappers embedded in his body on his own. As painful as this was, it was his first step towards getting out. Reese literally sends the chip downstream to send those disgusting fiends on a wild goose chase, then returns to her patient.
How do you feel about the future of medicine?
Chicago Med Season 2 Episode 6 Review: "Alternative Medicine"
Summary
Reese puts herself on the line to save a patient this week on Chicago Med.