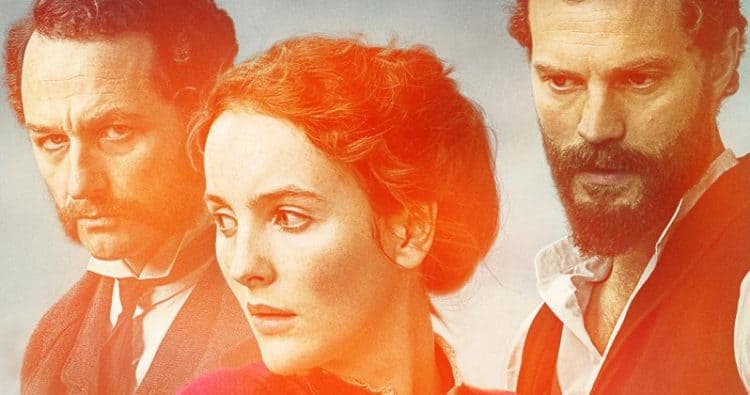 There are probably plenty of people that would look at the trailer to Death and Nightingales and wonder why a woman that was being so abused wouldn't just run away from such a situation. That answer is, unfortunately, kind of short and to the point, she would be caught or she would be out of luck back in that time and would be punished most likely for running away. Women didn't have it easy back in the old days and this story is one of many that goes into detail about how things might have been. But desperation makes for strange and terrible decisions since plotting to kill a person's father, or any family member would be heavily frowned upon obviously but would be enough to condemn a person in a very short amount of time back then. The story looks like one that might be kind of interesting as it has plenty of intrigue and suspense that's bound to attract plenty of viewers that happen to love this type of subject and can sit through one hour after another of a limited series concerning betrayal and the common occurrence of neighbors taking note of what their neighbors are doing, which has been a common occurrence for longer than anyone can possibly guess.
Period pieces such as this series have been quite popular in recent years and have been seen to attract audiences that tend to enjoy romance stories and great intrigue pieces that satisfy a niche in the entertainment industry. To be fair, such stories aren't for everyone, but they're easily seen to satisfy those that happen to enjoy more historically accurate tales that might delve into flights of fancy concerning one individual or several, and as it would appear, this story is bound to follow the life of the young woman that has been placed as the lead character as she seeks a way to escape the abusive touch her father by having the man murdered by her lover. One can't help but wonder how many times this type of a story has played out across so many shows and movies, and possibly throughout history as well, since the feeling that this is art imitating life in some macabre way is all too easy to believe. It is apparent that while her story will be the heart of the series, there will be plenty of other things going on since the history of Ireland and what was happening in the 19th century will be of great interest to many history buffs that will likely want to at least check out this story and see how accurate it might be.
The Emerald Isle has been host to a great deal of struggle and strife over the years, and it's very fair to say that much of this has made its way into several TV shows and movies over the years as people have tried to tell the story of Ireland in a number of different ways. Doing the same in a story that's bound to be more intriguing and will center on a love story and the determination of a young woman to escape her abuser and a life that is nothing like what she wants will only serve to heighten the interest since the feeling of her quest towards empowerment and something better is bound to be difficult but hopefully uplifting by the end. Already it does sound like something that will be able to hold its head high at the end no matter what happens before the final credits roll. Ireland has been depicted in a number of different ways over the years when it comes to one story or the next, but there's plenty of romance that factors into the country even if it's surrounded by turmoil and struggle on all sides. One can't help but think that somehow the history of the land was written more by romantics that mentioned everything else as a backdrop while modern authors took up this style and continued to paint a picture of a land where the people had quite a few fundamental flaws but were somehow still romanticized in a very big way. On that note, stories such as this, be they set in Ireland or in another area, tend to draw a mass amount of people simply because romance laced with some action and suspense tends to sell very well with a lot of people, so it's a big hope that the limited series will perform as expected.
It's not bound to be for everyone, but the series is still worth a look no doubt since it could have a little bit of something for a lot of audience members and it might feature a nice surprise or two that will entice people to sit down and keep watching.