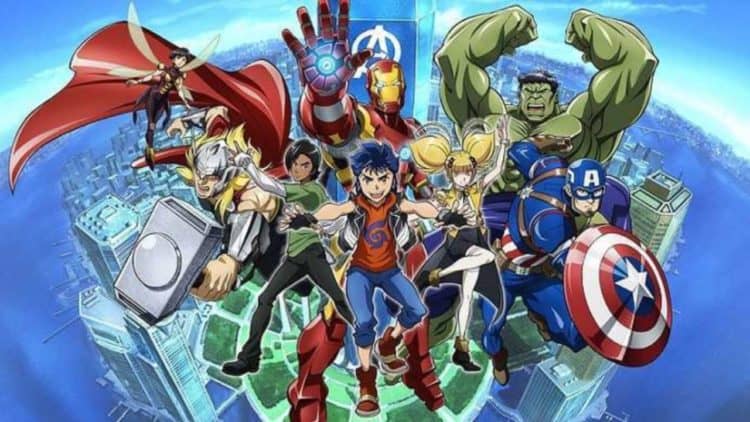 If you're a lover of anime and Marvel, I'm going to assume you'll like some Marvel anime. Personally, I got into Marvel long before I got into anime. I liked the Dragonball Z, Yu-Gi-Oh!, and The Last Airbender shows, but Marvel was always my preference. So when I heard about some Marvel characters getting their own anime shows, it aroused my curiosity.
Let's start back when it all began, back in 2010. A four anime television series made through a collaboration between Marvel Entertainment and Japanese animation studio Madhouse. Each series was twelve episodes and featured some major players from Marvel Comics. The first was for Iron Man, then Wolverine, then the X-Men, then finally Blade. I saw them all and loved all of them. Needless to say, Marvel and anime was a good combination.
The series originally aired in Japan on Animax between October of 2010 and September of 2011. Hey, if you don't like reading subtitles, fear not, because an English-speaking version aired in North America back in 2011. Eventually, they made their way onto DVD format and I got the chance to nab them. I'll be honest, I have a rather small anime collection, but the Marvel anime series is a start.
If you have Netflix, the only two that are available (so far) are the Wolverine and the X-Men series. If you've haven't seen any, don't worry about watching any in a particular chronological order. Think of it as the Marvel Anime Universe that was too short-lived. We got to see Wolverine make appearances in every series, fighting alongside with Iron Man, Blade, and having his own series.
Speaking of which, his series was the first I got to see on Netflix just recently. His series was heavily based on one of his most famous stories that took him to Japan to find his ex-lover, Mariko Yashida. If you're a comic nut like me, you know how the story goes down. Well, the anime takes the story and flares it up with some extra characters.
There's Asano, Yukio, Mariko, and Lord Shingen as the main antagonist, but no Silver Samurai. If that sounds like a turnoff, don't fret just yet. Wolverine meets with with his friend Asano and he tells him that Mariko is getting married. He, of course, doesn't like this news, so he decides to pay her a visit. When he arrives, he gets into the same scrap with Shingen similar to the comics, and he loses. Then his buddy Asano is killed by Yukio, but he doesn't learn that until the very end. There's a lot of cues that the anime takes from the story, but it's what it adds that makes it interesting.
One of the best characters made for the Marvel anime series is Kikyo Mikage. Think of him as a Japanese ninja version of Baraka. He has retractable katanas that come in and out of his hands, but unlike Baraka, he's all finesse and none of the savagery. His first appearance was in the Wolverine series, then worked his way into the Blade series, where the two men had a history. Watching their conflict play out was fun, but we got to first see him in action when he battled Wolverine.
He's pretty much the opposite of Wolverine, being the shadowy, ninja-like figure who is almost always silent. When he goes after someone, he does it quickly and uses nothing but skill. He can heal from grave wounds, move at great speeds, and his skills with his swords is uncanny. In the series, he's the deadliest assassin working for Shingen and Wolverine believes him to be the killer of Asano. This puts them at odds and Kikyo is eager to prove that he's the better warrior.
However, Kikyo does eventually become an uneasy ally to Wolverine, as well as Blade in his series. Despite being a ruthless assassin, he does have a sense of honor. He refused to fight Wolverine when he was at his most vulnerable and turned against Shingen when his men attacked children. He did, however, remind Logan that their battle would go on after he rescued Mariko. He's a complicated character, but a very cool one with insane abilities. Score one for Marvel anime and its characters.
Wolverine not only faced Shingen, but other foes as well. This included a lengthy battle with Omega Red, a giant called Vadhaka, and Mariko's dirtbag fiancé, Hideki Kurohagi. This was basically a big Wolverine slicing fest in the form of anime. It was awesome and Marvel and anime fans should check it out.
If you wanted more Marvel anime action with Wolverine, check out the X-Men series. The story begins with the Dark Phoenix storyline and quickly ends with the death of Jean Grey. The team disbands, but Charles Xavier sends them on a mission to Japan to rescue a young mutant from the U-Men, an anti-mutant group. The biggest X-Men make the team, including Cyclops, Storm, Beast, and Wolverine. Along the way, they recruit Emma Frost and Armor, and the main antagonist of the series is Mastermind. From the first few episodes, it basically turns into a horror show. In my opinion, horror looks very scary in anime. Things get rough for the X-Men as they battle Mastermind and his Inner Circle (basically the Hellfire Club).
The series even throws in a nice twist in the end when the team rescues Charles' son, Taken Sasaki, a child he had with Yui Sasaki. If you don't know who that is, she's basically a Japanese anime version of Dr. Moria McTaggert. It turned into a great personal story for the team and we even get some silent cameos from other Marvel heroes. It was a fun watch.
What else can I say? Marvel always keeps finding ways to impress me. Heck, anime keeps finding ways to impress me and mixing it with Marvel really sold me. The action is fun, the new stuff was great, and each series did the characters justice. I just hope they add the Blade and Iron Man shows soon. In fact, why not just more Marvel anime?