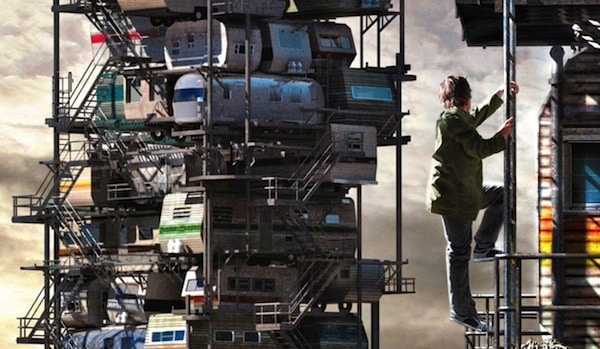 More and more I'm wanting to see this film. The amount of pop culture that's been crammed into it seems like it might be overwhelming, but it also seems like it's leading to a very interesting point. The opening of this trailer is pretty cool since it's bound to remind people of a host of other games that have the same format. This is really a movie for those that were growing up in the 80's and 90's it seems like, but it's also geared for those that came later as a means to understand just what gaming was all about back then. Things were very different and the gaming systems and the games themselves were far more rudimentary and not as three dimensional.
Things have certainly changed. I can recall when a motorcycle-based game from the early 2000's was simply too fast and too challenging, and now it is considered slow by the standards of today's games. As they stand now video games are a business all their own and have spawned a worldwide following that was unheard of even back in the 1990's. The culture has grown so fast that though and gone so far that many have forgotten what it was founded on and what it took to get this far.
This film is bound to make people remember and inspire a new generation of gamers to take note of what really was responsible for their current enjoyment. A lot of it might be retro and it might seem like a nostalgic dream but those of this current generation and those born in the 90's need to recall that things were once very simple when it came to video games. You played, you had fun, and you either won or lost. There was no saving for quite a while, there was no downloading special items off of the internet, and there was no multiplayer mode in the beginning. There was the gamer, and the game.
The film is essentially a giant video game, but obviously something goes awry while searching for the prize that will allow the winner to take control of the OASIS and the multi-billion dollar fortune that awaits. Of course the organization running the contest is going to have their own ringers in the game trying to distract and even destroy those that might think they have a shot. It's the way of the corrupt in films after all to do whatever is necessary to give themselves the overwhelming advantage rather than play the game of chance like everyone else.
But then the hero comes into play and figures something out about the system. Whether that hero is a noble and just person or someone who knows how to bend and even break the rules when it's needed, they manage to outwit the antagonist and discover a way to win. Wow, I'm actually getting pumped up for this movie just talking about it.
Just for the multiple pop culture references this movie looks awesome, and this trailer is a nice touch.
Save