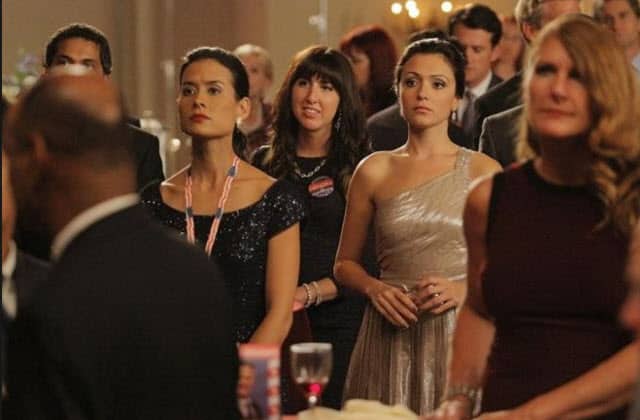 It's only the fourth episode in and already so much has happened on ABC Family's new drama Chasing Life. In short, April Carver found out she has cancer in the midst of her life finally going right. She's getting her career on track, starts seeing her co-worker Dominic – even her home life seems to be getting normalized after her father's tragic death. Once she finds out she has the c-word, though, her world starts to crumble. Refusing to let it get to her, April continues to trudge along solo – keeping her condition a secret from the ones she loves most. Aside from her estranged Uncle George, the only one who knows is her best friend Beth.
This week, the storyline gets juicy: April is at group therapy for those with cancer when she realizes she's in there with Leo, the arrogant son of the politician April's been longing to write about for work. After getting off on the wrong foot, Leo invites April to the big event for his father's campaign. Things get very love-triangley when a glammed up April is surprisingly joined by Dominic at the event. Leo doesn't take too kindly with this and sabotages his promise of a big scoop to April, who is not only defeated by him but also by her work rival, Raquel. There's no doubt of a sparking chemistry between April and Leo, but he's going to have to soften up just a little to get into her world. You just know that since they're bonded by their ailments, something is definitely going to be brewing between the two.
Speaking of April's ailments, she's definitely feeling major symptoms. If her previous nosebleeds and gums bleeding fiascos weren't convincing enough of the level of her illness, she's definitely feeling it now. The usually alert and responsible April has been exhausted and sleeping more than normal – she even oversleeps on the train home from work and misses her stop by a longshot. Initially lying to George about feeling fine, she finally succumbs and is open to get tested for further information on her condition.
At home, Brenna continues to be a brat while their mother Sarah picks up the pieces – again – after her dating disaster with Ben. Sarah is supposed to finally take that tango class she's been talking about forever, but she had made the plans with Ben, who is no longer in the picture. Ever the savior, April volunteers to go with her mom; however, with her last minute invite from Leo to the event, she has to bail and begs Brenna to step in for her this one time. Brenna is given a chance to redeem herself and prove to be a caring daughter, but alas she fails again. When April finds out Brenna stood Sarah up, she flips and the two get into an intense fight that ends with an exhausted April accidentally confessing to her younger sister that she has cancer. HOLY CANOLY! That moment Brenna realized that April was telling the truth and April finally let go caused all the feels. But wait – hold those tears… there's more.
The last scene warrants the most hideous of ugly cries. April finally goes to her biopsy appointment conducted by Uncle George and it's apparent that she's terrified. When George asks if anyone else was coming and April responded that she was going to do it alone, you can't help but get that lump in your throat. And right when the door opens at the last possible moment, only to have Brenna walk through the door asking if she was too late – that Brenna might as well have opened the floodgates. The last few seconds of the scene with April enduring so much pain during the biopsy is enough to hoard all the tissues. Excuse me – I'm still tearing up from the episode.
Other thoughts on the episode:
I was really starting to despise the Brenna character on the show. I get that she's this rebellious little girl, but there doesn't seem that there are any endearing qualities in her. I don't even know what her new guy Kieran sees in her – he's obviously way too good for her! But that last scene when she finally does something right… that's my girl, Brenna. That's my girl. P.S. I will forgive you for making me ugly cry.
Chasing Life airs Tuesdays at 9/8c on ABC Family.
[Photo via ABC Family]
Tell us what's wrong with this post? How could we improve it? :)
Let us improve this post!