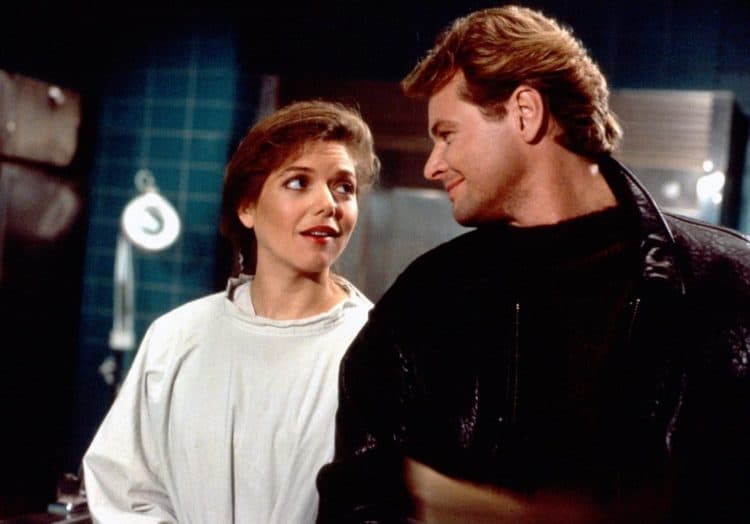 Longevity isn't an easy thing to maintain in the acting world, but Catherine Disher has manage to do it. Catherine has used her acting skills and her voice to land dozens of roles in her more than 40 years in the industry. She is perhaps best-known for her role in the Canadian TV series, Good Witch in which she played Martha Tinsdale and for her voice role in the video game Resident Evil 3. Catherine's career is proof that the right combination of hard work and talent is truly unstoppable. Keep reading for 10 things you didn't know about Catherine Disher.
1. She Started Acting At Boarding School
Catherine has loved acting since she was a kid, but she didn't actually get started until she was away at boarding school in New Hampshire. She says that her theater teacher, Rodney Marriott, really inspired her to get started.
2. She Loves Doing Cartoon Work
Catherine has been doing voice work since very early on in her career. Her first cartoon was an TV animated version of the film, Beetlejuice. However, when she first got started, she didn't know if cartoon work was right for her. Over the years, she built up her confidence. Now she says that doing cartoons is one of her favorite things because she doesn't have to dress up or wear makeup.
3. She's A Mom
The world may know Catherine as an actress, but her primary job is motherhood. Catherine was married to fellow actor, Cedric Smith. The two worked together on X-Men: The Animated Series. Together, they had one son in 1993 named Darcey. He is both Cedric and Catherine's only child.
4. She Grew Up On A Farm
Catherine was born in England but raised in Canada. She grew up on a farm outside of Montreal where she had a goat named Tripper and a Shetland pony. Her father was a psychiatrist who also "dabbled in beef cattle". Catherine says she had an especially close relationship with her goat. She told My Devotional Thoughts, "With Tripper, if she didn't see me, she would wake up in the morning and run out of the barn and stand outside our house and bleat for hours until I came out. And she ate every flower my mother planted. I would bring her in the house, and she'd make a mess, and it was mayhem. She had a big crush on one of our dogs. She used to follow him around too."
5. She Has A Pet Turtle In The Bath Tub
If you haven't noticed by now, Catherine is an animal person. She's continued to have pets into adulthood and one of those pets is a turtle who lives in her bathtub. Catherine had to move the turtle to the tub afters its tank had a serious algae problem that couldn't be fixed.
6. She Doesn't Like Hot Weather
Most people can't wait to get away from cold weather. But after living in England and Canada, Catherine has gotten pretty used to cooler climates. In fact, she says that she doesn't even like humid climates or warm weather.
7. Her Son Is A Voice Actor, Too
Catherine has passed her love of voice acting down to her son, Darcey. In an interview, Catherine said, "My son does voice work too. He doesn't do on-camera stuff because he didn't like it very much. He started voice work when he was very young."
8. She Visited The Morgue To Prep For A Role
Sometimes actors have to do some pretty extreme stuff in order to prepare for a role. When she was preparing for her role as medical examiner, Natalie Lambert, on the TV series, Forever Knight, she spent a day at a morgue to learn. She decided to leave when they started to perform an autopsy.
9. She Studied At The National Theatre School Of Canada
Catherine was trained at one of the best acting schools in North America. The school has several notable alumni including Peter Cullen, Colin Fox, and of course, Catherine Disher. When she completed school, she moved to Toronto where she planned on doing theater work. However, she quickly got into TV work instead.
10. She Wanted To Be A Zoologist
If Catherine hadn't become an actress, she would have still gone on to do some pretty great things. Her plan was to become a zoologist. She even spent time working for a company that teaches dolphins phonetics.
Tell us what's wrong with this post? How could we improve it? :)
Let us improve this post!