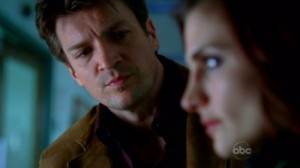 The murder of Johanna Beckett is probably the most important case in the ABC hit show Castle. Mother of the female lead, Detective Kate Beckett, Johanna was stabbed in January of 1999 when Kate was still in college. This tragedy turned our beloved detective's life upside down and made her change drastically, shaping up the strong, independent woman she is today. She decided to become a detective so she could bring her mother's murderer to justice.
The season 3 finale 'Knockout', scheduled to air tonight at 10pm, is going to touch down again on this particular storyline as new evidence regarding the conspiracy surrounding Kate's mother's death is discovered. 'Knockout'will be the third episode dedicated to this case and it is the one plot that has seamlessly made through all three seasons and has only deepened the mystery the more Castle and Beckett dig into it. Back in 1999 when it happened, the NYPD wrote it off as random gang violence, just bad luck. Beckett has found a lot more information since Castle started shadowing her and things will get even more intense tonight.
So here is all you need to know to watch tonight's season finale.
Johanna Beckett was murdered by a professional killer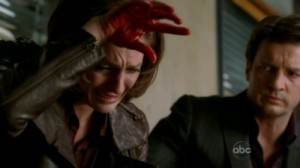 In 'Sucker Punch', back in season 2, Beckett and her team caught a case of a man that had been stabbed several times. Castle had started investigating Beckett's mom's case on his own — against her will, which caused a serious falling out between them in the end of season 1 — and reached out to a forensic pathologist, who told him that the knife wounds had been inflicted on Beckett's mom by a professional killer.
Later, in 'Sucker Punch', the victim was killed by the same M.O. which led medical examiner, Lanie Parish, to consult with the same forensic pathologist. They found out that a total of five people had been killed by the same man with the same weapon, including Johanna Beckett. They eventually found the killer, Dick Coonan, but Kate had to shoot him in order to save Castle and he died before giving her any information about who ordered the hit on her mother.
Johanna Beckett was murdered for threatening to expose a scandal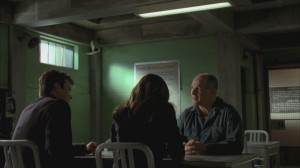 In 'Knockdown'earlier this season, the lead detective on her mother's case, John Raglan, reached out to Kate saying he had to tell her something about Johanna's murder. They agreed to meet and Beckett took Castle with her. Raglan started telling her that in order for her to understand what happened, she needed some context and what happened to her mom started with something that had been going on nineteen years ago. He was shot and died right in front of them, however, and that was all they got from him.
Digging deeper into Raglan's life, they interrogated his partner and found out that nineteen years ago, a group of NYPD members were kidnapping mobsters and asking for ransom to try and stop them from having complete power over the city. One of the mobsters they tried to kidnap was Joe Pulgatti, but when they went to catch him, there was a struggle and a man who was with Pulgatti at the time (who turned out to be an undercover FBI agent) was murdered by one of the cops and Pulgatti was framed and went to jail.
Johanna Beckett's murder is just the tip of the iceberg in a much bigger conspiracy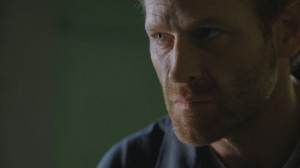 Johanna Beckett was a lawyer who caught Pulgatti's case and started investigating it, but before she could get any deeper, someone hired Coonan to kill her. After her death, another three people directly linked to her were also murdered. Whoever it was that ordered the hit in the first place is now after Kate Beckett and had her under surveillance in 'Knockdown'. The professional hit man hired this time uses the alias Hal Lockwood and kidnapped Esposito and Ryan to find out how much the NYPD knows about whatever this conspiracy is about. He tried to kill Beckett, but Castle saved her at the last minute. Lockwood went to jail and refuses to talk.
Lockwood, Raglan's partner and Coonan have all stated that the person behind all this is someone they will never touch. McAllister (John Raglan's partner) went as far as saying that they have woken the dragon and that this whole thing is a lot bigger than they realize. Castle and Beckett have no idea what they have gotten themselves into.
Which brings us to the season 3 finale 'Knockout'tonight. Lockwood will stage a spectacular prison break and all hell is going to rain down on our favorite NYPD team. Things will get intense and the producers have promised a jaw dropping cliffhanger. You can check out the promotional photos and sneak peeks for tonight's episode while you wait until 10pm.
This one will rock our socks off, guys.