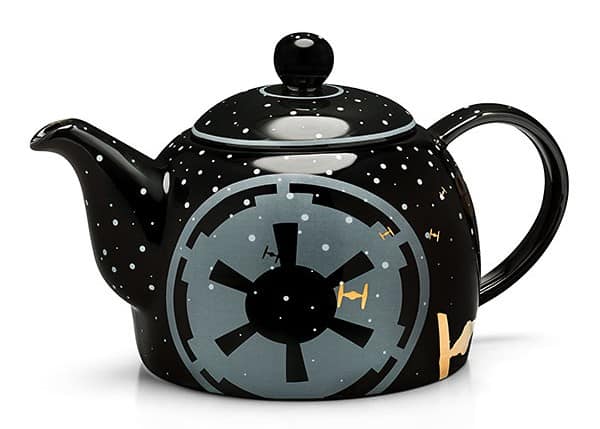 The market for movie and television theme based products has exploded in the last 20 years or so. Not only do fans want to emulate their favorite characters in the way they act, but also in the way they dress, eat food, drive their cars, decorate their homes, do chores, you name it. It's why nowadays you'll catch movie themed shower curtains, bed covers, utensils, phone chargers, you name it. Chances are if there's any product out there, there's a themed product to go along with it.
For all of you Star Wars buffs out there who like tea, here's yet another themed product that might be perfect for your home.
Here's a full description from Thinkgeek
Straight from the First Galactic Empire's table to you is our high-quality Star Wars Black Empire Ceramic Teapot. Sip on hot tea from the 4-cup capacity black ceramic teapot with a starfield pattern and several TIE fighters flying through a large Imperial logo. These are all the rage at First Order meetings, delivered by EXD-9 droids in white (protocol) mode, but their red (infiltrator) mode has proven to be too… messy.