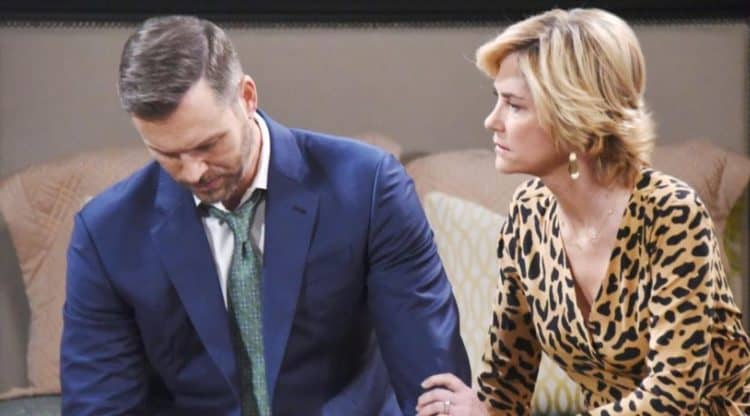 Days of Our Lives fans are watching as things unfold nicely this week. It was a spectacular moment when Victor made the decision to help Eve do whatever it takes to get his son back. We know that Victor hasn't been on board with all that's been going on with Brady and with Eve, and he even decided to take Theresa's side when she decided it was Brady she wanted back in her life. however, Victor has made it his mission to help Eve get what she wants by helping him get what he wants. And that's a big moment. Another big moment is watching as Abigail freaks out and waits impatiently to find out what will happen to her and her life when she gets the results of her paternity test. She's very upset by the way things are currently going, and she has to find out to whom this baby belongs before it's just too late. She's struggling, and it's not good news for her.
And then there is the fact that we are watching Theresa take it upon herself to continue to try and make sure Brady wants to be with her. She cannot seem to understand that he really doesn't want to be with her. She's confused, and we can't figure out what her problem is. She's got a lot of issues to work through, but this is something we are just baffled by. She knows it's not her he wants, but she will still ask him to be with her while we are all just over her wondering who wants to be with someone who clearly wants to be with someone else? But that's just how it goes. She won't get what she wants, but we might see her continue to try when she has the chance to do it.
What's Happening on Days of Our Lives
Only time will tell! #DAYS https://t.co/08imLBRJXg

— Days of our Lives (@nbcdays) July 12, 2018
We know that there's been a lot of drama with Ciara and Ben these days, and we want to know if there might be a little more. We've been thinking that they might end up together in some fashion, but we've been hesitant to say anything. He's a killer with some serious health issues, after all. And that isn't the best way to begin a relationship. But, it turns out we are not the only people thinking that. And the fans are starting to speak their minds, send their tweets, and get it going.
What's Next on Days of Our Lives
This week on #DAYS: Things are heating up in Salem this summer, as several new relationships get steamy. Watch Days of our Lives, weekdays on NBC. https://t.co/p0tDRNfC78

— Days of our Lives (@nbcdays) July 9, 2018
The week is going to end with a serious bang. We want to know if Abby will get the results of her test before the week is over, but we have a sneaking suspicion we are waiting until at least the beginning of next week to find out what is going on in her life. She's in a serious situation that won't just go away for her, and we can't wait to see how this all unfolds. She's in a place right now where thing will not work out for her if she's not careful, and we are certain she's got bigger issues to deal with. What we will see when the week comes to a close, however, is the moment when JJ does something outstanding. He is going to stand up and make a shocking announcement in the middle of the hearing.
Considering the fact that Theresa is currently living with him, we have to wonder if what he has to say is about her or at least in her favor. They are good friends, and he has been encouraging her to make peace with things as they stand right now, and that's what kind of person he is. He's not the kind of person to get up and lie about things just to help a friend, so we are curious where he might be going with this one. We think it might be quite interesting, but we are still confused about what it is he is looking for in this situation with her.
Stay tuned for more Days of Our Lives and be sure to check out TVOvermind daily for the latest Days of Our Lives spoilers, news, and updates.