Can hurricane damage keep Michael from a job this week or will old 'friends'be able to slow down progress?
To begin, it was nice to see some old faces re-appear this week. We were first greeted with a visit by Vaughn. I have to say that he is played greatly by Robert Wisdom. His chilling exit from Michael's apartment shows why Vaughn is someone who should never be messed week. The second re-appearance was actually by two men. For those who have followed the show since the beginning, you should remember the two FBI agents tailing Michael for the first season. Well, Lane (Brandon Morris) and Harris (Marc Macaulay) are back and this time they need help from Michael. It's funny to see the tables turned on the men who made Michael's life hell.
The help the FBI need are actually what pushes the story along this week. A man witnessed a murder by a crime syndicate and is now being tracked by a hit man. This story is nothing new and the writers didn't add much fresh material to make it seem original. The hit man Cole () was somewhat of a nuisance. At times I found him annoying but I guess it was appropriate for his character. He has got to be the first person I have seen go against Michael's tactics.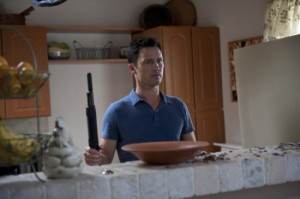 The season story arc is revving up for the August 26 mid-season finale. The bible from last week makes a quick appearance but we get nothing from it. However it doesn't matter as Michael was able to cash in a favor against Vaughn and this favor will most likely be an explosive one that comes to head next week.
A few faces return, a hurricane damages Miami, and we are one step closer to the finale. This week's episode was able to keep my attention and has really got me on edge for next week. However, with an unoriginal story I was a little disappointed in the writers. B-