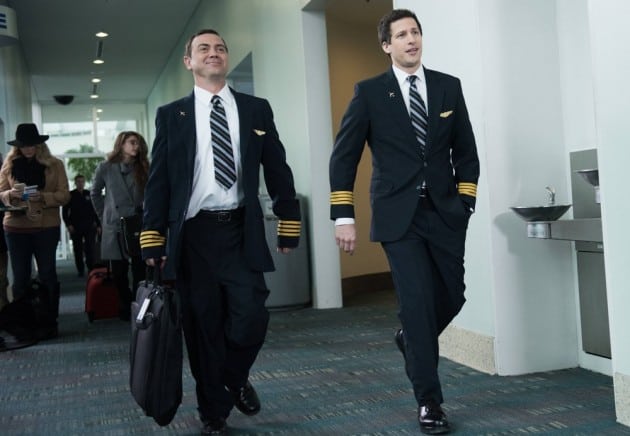 Everyone has that one person in their life who only comes to them when they need something. It's a toxic relationship that is hard to escape, especially if that person is someone very close to you. For Jake, that person is his father, who has often been absent from his life for years at a time and only returns when he needs Jake's help. Because it's his father and he wants to impress him and have a relationship with him, Jake makes excuses for his dad, always sure that there is a reason for why he's been so absent. In last night's episode of Brooklyn Nine-Nine, we saw Jake come to terms with the fact that his dad is not a good person, relieving himself of the burden of constantly defending him.
In a lot of ways, the precinct has become a replacement family for Jake. They're always looking out for him, and they don't ask for anything in return. Charles is as close to a brother as Jake will ever have, and it showed in this week's episode. With Jake's dad returning, Charles did everything he could to make sure that Jake wouldn't get hurt again. At the same time, Charles supported Jake and went with him to Canada to help clear his dad's name even though he didn't trust him. And when Jake's dad ultimately let him down again, Charles was there to make sure Jake was alright. Charles acted exactly like a brother would and was there for Jake throughout the whole episode.
Similarly, Captain Holt has taken over the role of father in Jake's life in many ways. Jake looks up to him and is constantly seeking his approval and has become a better person because of it. Captain Holt is the role model that Jake never had growing up, even if he did look up to his actual father. At the end of last night's episode, we saw Holt tell Jake he was proud of him, which means way more coming from him than it would have coming from Jake's father. While Jake's dad is superficial and doesn't care about anyone, something that Jake finally was able to acknowledge last night, a compliment from Holt actually means something. Now that Jake has finally stepped away from the toxic relationship with his own father, he will be able to further grow as a person, letting in his new 'family.'
Scully was also featured more heavily in last night's episode, which was fun to see (maybe he'd be the weird uncle of the family). His one liners were some of the best moments of the night, bringing in the most laughs. When he was tasked with telling the French-Canadian cops that they too were cops, we were rooting for him to succeed. What ended up coming out of his mouth, the phrase "we are turnips," was just as good though. While it may be easy for the characters to forget about him and leave him behind, he's an important part of the show, in terms of comedy.
While Jake, Charles, and Scully were dealing with Jake's dad, the rest of the precinct was attempting to solve a riddle that Holt gave them. Gina and Rosa, the two most apathetic characters, were pitted against Amy and Terry, the two most ambitious characters, as they raced to solve the riddle first. Even Holt himself didn't know the answer to the riddle, though, as it turned out that he had been trying to solve it for years to no avail. If someone in the precinct could solve it, he could finally take the answer to his superior, ending the twenty year streak of not knowing the answer. Holt is a character who doesn't like being wrong and doesn't like not being able to solve something. He shares this trait with Amy and Terry, who both put a lot of effort into solving it. In the end, they all had to accept that it simply couldn't be done and let it go, no matter how difficult that was for them. (If you're like me and can't let things go, here's a link to the answer of the riddle: http://www.justriddlesandmore.com/Weighty/weightyfive.html)
Favorite Moments:
-"Oh my god Jake, who's flying the plane?!?"
-"These islanders are delicious." Even Terry can't resist donuts.
"I just captured the exact moment when you realized you had failed." Never change, Gina.
[Photo via FOX]