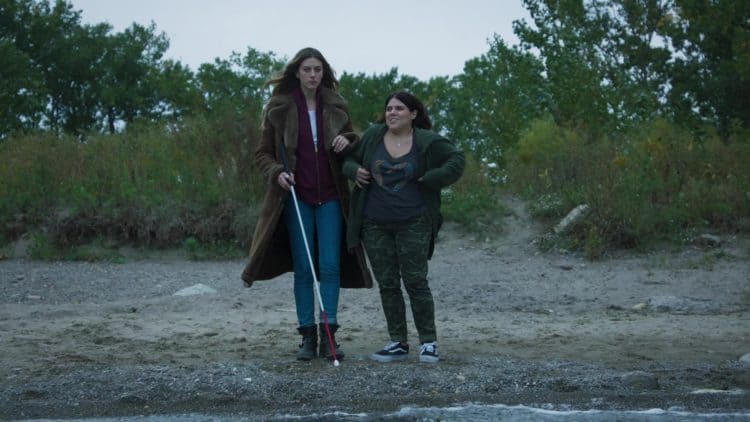 Brooke Markham hasn't been in the business long, but she's already establishing herself as a talented young actress. Since making her TV debut in 2015, Brooke has already landed a few recurring roles. Most recently, she was cast as a main character in the comedy-drama series, In the Dark. Her character, Jess Damon, is compassionate and friendly; two qualities that have made her well-liked by fans. Even though In the Dark is what she's best-known for, Brooke has done lots of other interesting things. Keep reading for 10 things you didn't know about Brooke Markham.
1. She Wrote A Short Film
In 2017, Brooke wrote and produced a short film named Ember. According to IMDB, the 32 minute short is about a young women who is hoping to escape the stress of her life and decides to roofie herself to help. She uses a fictional dating app called Ember to find someone to help her execute her plan.
2. She Loves Stranger Things
Are there any shows you could binge watch more than once? Stranger Things is that show for Brooke Markham. She said she's already watched the entire show twice and there could possibly be a third time on the horizon.
3. She Has A Hidden Talent
Having a party trick up your sleeve is always a great way to get a conversation started. During an interview, Brooke revealed that she has a really cool hidden talent. She told Pop-Culturist, " I can open a beer bottle with a lighter. Do you know what I mean? You hold the lighter and then pop the beer bottle with the lighter." This sounds like a very cool trick, but I wouldn't recommend trying it at home.
4. She Loves 80s Horror Movies
Who doesn't love a classic scary movie? Brooke Markham says that she is a big fan of 80s horror movies. Nightmare on Elm Street was the first scary movie she remembers seeing at just 8-years-old. Of course, at that age the movie definitely left a lasting impression.
5. She Has A Love/Hate Relationship With Social Media
In 2016, Brooke's love for scary movies came full circle with her role in the film Friend Request. The movie shows the dark side of the internet and reminded Brooke of her own love/hate relationship with social media. She told Dread Central, "people live on the internet, it's like a second identity. And social media irks me because what you see, like a friend's pic on Instagram that's a picture that's all fabricated, it's not real but we think it's real — it's becoming like another reality for us."
6. She Was In A Production Of Hamlet
Most of Brooke Markham's work consists of on screen projects, but she isn't afraid to branch out and try new things. In 2019, she decided to try something a little different. She starred in an experimental production of the Shakespeare play, Hamlet, in North Hollywood. According to a local news article about the play, the production featured " imaginative lighting effects, a DJ, fog, and audience participation."
7. She Loves Her Dog
If you've ever had a dog, you know that the bond between a person and their pet is like no other. Brooke understands this fully. She is the proud owner of a cute little dog Casper. In one Instagram post, she even referred to him as her "happy place".
8. She's From Oregon
Brooke Markham was born and raised and Oregon. Her father, Pat, owns a company called Brooke Communications that operates radio stations in the area. Brooke decided to stay close to home for college and attended Portland State University. She graduated with a bachelor's degree in liberal studies in 2011.
9. She Didn't Start Acting Until College
Lots of actors will say that they've been interested in acting all of their lives. Many even get their start as children with small roles in commercials, movies, and shows. Brooke didn't start acting until she was a college student. But once she caught the acting bug, there was no turning back. She went on to complete a 12 week program at Stella Adler Studio of Acting and and a two year program at London Academy of Music and Dramatic Art.
10. She's Close To Her Grandfather
Everybody has at least one person in their life that makes every moment better. For Brooke, that person is her grandfather. When she isn't busy with work, she likes to spend time with her family. She has an especially close relationship with her grandfather and enjoys hanging out with him whenever she can.