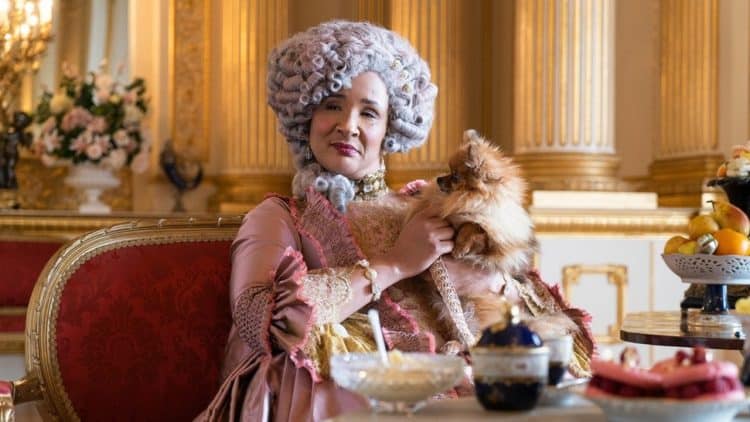 It's time to tighten up those corsets and fit into those puffy ball gowns again. Bridgerton is not going anywhere any time soon. The hit Netflix original series is returning for a much-awaited season 2 that is set to make more hearts flutter, and satisfy more of those period drama fantasies. The eight-episode first season premiered in late 2020, and has since been the talk of the town. It is based on the bestselling series of romance novels by Julia Quinn under the same name, and is set in early 19th-century England. The story is brought into small screen life by creator, Chris Van Dusen (Scandal), and produced by the famed Shonda Rhimes, who is the brains behind the highly successful television dramas, such as Scandal, How to Get Away with Murder, and Grey's Anatomy. The series was so well-received by the public that it was able to smash records like no other. It reached the top 1 spot on Netflix in 76 countries, and is now branded as Netflix's most-watched original series ever, with viewership hitting a whopping 82 million households during its first 28 days online. There's nothing like a good old-fashioned romance paired with attractive English accents to seal the deal.
Season 1 Recap
The story begins in 1813, during the Regency era of London, and revolves around the noble Bridgerton family that belongs to the upper-class of society. The well-to-do family is led by its widowed matriarch, Violet, Dowager Viscountess who is portrayed by Ruth Gemmell (Tracy Beaker), and is completed by her 8 children composed of four sons, Anthony played by Jonathan Bailey (Broadchurch), Benedict played by Luke Thompson (In The Club), Colin played by Luke Newton (The Cut), and Gregory played by Will Tilston (Goodbye Christopher Robin), and four daughters, Daphne played by Phoebe Dynevor (Younger), Eloise played by Claudia Jessie (WPC 56), Francesca played by Ruby Stokes (Una), and Hyacinth played by Florence Hunt (Cursed). The episodes start-off with a narration by a certain Lady Whistledown, voiced by the iconic Julie Andrews (Mary Poppins), who seems to know all the latest happenings in town. This is evident in the newsletter she regularly releases, which contain scandalous pieces of gossip. No one in town is spared from Lady Whistledown's watchful eye.
The first season is focused on the Bridgerton family's eldest daughter, Daphne, as she makes her social season debut. This includes a steady string of balls, dinner parties, eligible bachelors, and a highly competitive marriage market all rolled into one. Daphne starts off the season unperturbed and hopeful to meet her happily ever after in one of the events. She soon finds out that the pool of eligible bachelors is not that eligible in her eyes after all. The story escalates as Daphne gets acquainted with Simon Bassett, Duke of Hastings played by Regé-Jean Page (For the People), who is coincidentally the best friend of her eldest brother, Anthony. Although the attraction is undeniably electric, the Duke has some underlying commitment issues that prevent him from getting married. He eventually devices a plan with Daphne to dupe their gossipy social circle.
The Duke pretends to pursue Daphne to secure his bachelordom, while Daphne uses this to buy time and deter her persistent suitors whom she has no interest on seeing. This may sound like the perfect plan, but sometimes chemistry gets in the way, and playing pretend blurs into reality. The rest of the season explores the tumultuous yet passionate relationship of Daphne and the Duke, among other things, which include a surprise pregnancy, a forbidden affair, and even an actual duel. The list goes on and on. The real identity of Lady Whistledown is also revealed in the epic finale. She turns out to be Penelope Featherington played by Nicola Coughlan (Derry Girls), the unassuming best friend of Eloise Bridgerton. The season ended with a whole lot of other big revelations and cliffhangers of sorts. The clamor for season 2 is deafening.
What to Expect from Season 2
The upcoming season will be focused on another Bridgerton sibling. This time around, the focus will be on the family's eldest son, Anthony, and his pursuit of a suitable partner. The previous season explored Anthony's illicit affair with his mistress. Will this new season finally allow him to love freely? The production of the new season was hampered once again last mid-July after someone on set tested positive again for COVID-19. Fortunately, things have been resolved and filming is well under way again. Fans might have to wait a bit longer though, as there is still no official release date for the new season yet. Another heartbreaking announcement comes with the news that Regé-Jean Page, will not reprise his role as the Duke of Hastings next season. Where does this leave the story of Daphne and the Duke? Will there be a new knight in shining armor to swoon over? The questions may be endless, but Lady Whistledown is already on the other side of things, ready to spill more tea.
Tell us what's wrong with this post? How could we improve it? :)
Let us improve this post!