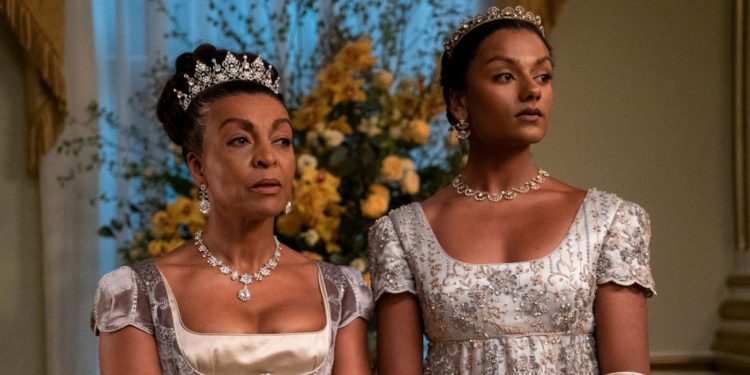 For all my die-hard romance fans, Season 2 of the popular Netflix series, The Bridgertons, is back. The first episode of this regency historical romance series already has us swooning. Viewers were highly skeptical about how the second series would turn out after breakout star Rege- Jean Paige, the handsome and dreamy Duke, announced that he wasn't returning for the next season. Fortunately, the duke's presence was hardly noticed. This season takes cues from Julia Quinn's novel "The Viscount Who Loved Me" cues. On The Bridgertons Season 2, Episode 1, "Captial R Rake," we meet this season's new additions; Kate (Simone Ashley) and Edwina (Charitha Chandran), and their mother Lady Mary (Shelly Conn). Lady Mary and her two daughters of South Asian descent, and might I add, these women of color, are beautiful.
Not one but two of the of the Bridgertons will be participating in this year's social season. In fact, the first episode opens with a reluctant Louise near hyperventilating as she's presented to the Queen as a debutante. If you remember from last season, Louise is Daphne's fiercely independent younger sister. We love Louise because she's different from her peers, she has a nontraditional way of thinking and she doesn't crave love and marriage like the rest of the girls her age. Anthony Bridgeton is looking for a wife this season. But not for the reasons you think. Last season, Anthony parted ways with Sienna the alluring opera singer he had having a "secret" affair with for several months. Most of us also remember him as the jerk that tried to keep the Daphne away from the Duke and instead marry her off to some older and unattractive lord. In the Season of 1814, Anthony isn't looking for love. Rather he's on the hunt for a smart and capable wife to bear his children.
There are literally dozens of women that would love to marry Anthony Bridgeton. However, it doesn't take long before Anthony realizes that his tactical approach to finding love just isn't working. Everything seems to be going downhill, that is until he comes across a woman racing on horseback through the park. Initially, Anthony believes she's in trouble and takes chase behind her. Anthony is the one that's in for a lot of trouble for the woman is Kate Sharma. Kate Sharma with her lustrous black locks is a skilled rider with a challenging gaze that could break glass. Kate and Anthony's interaction sarcastic interchange leaves us in a dizzying disarray and it's just the first of many. Kate is considered a "old maid", at 26 years old she's not married and her sole purpose is to find a husband for her younger sister Edwina. She and Edwina are half sisters, Edwina mom Mary Sheffield left town several years ago after she caused by a scandal by marrying her penniless father. Lady Danbury is sponsoring the ladies for this season and using all of her best tactics to secure Edwina a husband.
Kate eventually reveals to Lady Danbury that Edwina's grandparents the Sheffield will give her a large size dowry which she can use to care for her family if Edwina marries someone of British descent. However, Edwina knows nothing of the proposition and she wants her little sister to find love without that hanging over her head. Kate and Anthony meet for a second time at the evening's social gathering. This time, Kate spots Anthony first and she overhears him joking about how he desires someone of impeccable breeding stock. Anthony busts her for eavesdropping but Kate makes it clear that his character is just as poor as his horsemanship. While bickering, Kate admits that Anthony has a nice smile. Although, Anthony's second encounter with Kate doesn't go as planned, there is so much chemistry and passion brewing between them.
That night the queen announces that Edwina is the diamond ball which removes an immense amount of pressure from Eloise who fears that she won't be able to live up to Daphne's legacy. However, this announcement draws Anthony's attention to Edwin. Over the years, Kate has trained her younger sister to be the perfect wife. Edwina plays different instruments, speaks different languages, she's a great dancer and she's beautiful, essentially everything Anthony could ever want in a wife.
After they share a dance at the social gathering, Kate forbids her Edwina from associating with Anthony. This season is bound to get really messy as there seems to be a love triangle brewing between Kate, Edwina and Anthony. Penelope and Eloise relationship is on the rock this season. During the off season, Eloise has taken up reading the works of Lady Wollstonecraft a pro-feminist writer. As as a result, she's lost interest in town gossip which seems to be the only thing that gives Penelope purpose.
Tell us what's wrong with this post? How could we improve it? :)
Let us improve this post!