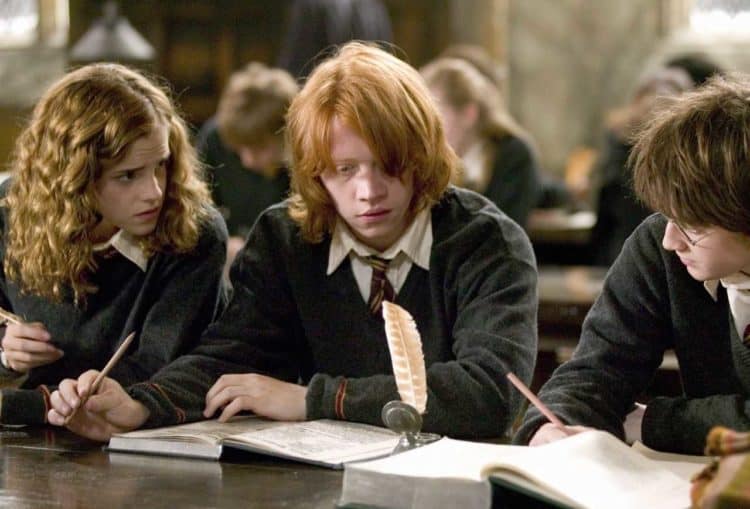 It's usually pretty interesting to find out more about a favorite show, movie, or just something that you happen to enjoy when it's presented and there was no disappointment here. Unless you have no knowledge of Latin at all it might come as a surprise that a lot of what Rowling put into her books was derived from Latin when it came to naming and spells, in fact there were some in there that were almost direct interpretations as she didn't really hide the fact. But the one that was kind of interesting was the mention of Alcatraz and Abaddon, wherein she came up with the name of the infamous prison Azkaban, which housed the worst and most powerful of dark wizards under the guard of the Dementors. To think of how she came up with some of the names and the spells sh used in these books and therefore in the movies is pretty interesting since it shows that she was doing her research for part of it and was simply choosing what sounded good for the rest of it. In any case it all came out pretty well since the fans responded in a big way and were duly impressed.
I've said it before but it remains true, Harry Potter is a story that a lot of people thought was going to make one movie and then be gone for good. Obviously that was a bunch of rubbish since it went on to create an entire series that ended in what a lot of people could call a happy way while others wanted to know more. Well, they got it when Harry Potter and the Cursed Child came out, but still a lot of them weren't all that happy since to be honest, as Jane van Koeverden of CBC it wasn't a perfect ending and it didn't really tie anything up that hadn't already been put right. In fact it showed that each couple that was shown at the end of the final movie were having marital problems and couldn't seem to connect with their own kids. In a big way there was no definitive and happy ending in the Potter universe since they seemed to suffer the same kind of issues that any married couples might go through from time to time. Still, the best part is that it would seem that Harry Potter is, for now, over and done with when it comes to the stories since it wouldn't appear that Rowling is going to do any more of them.
In a way that's too bad since to be honest the Harry Potter saga was one that drew a lot of people in and created a world that was worth watching. Perhaps one of the most amusing parts of it however came when the relationships between the muggle world and the magical world came into contact now and again. Arthur Weasely's amazement with one or more muggle inventions was pretty funny since even a rubber ducky seemed to stymie him at one point. Plus, their belief system was kind of amazing since the idea didn't seem to be divisive since if you'll notice they celebrated Halloween and Christmas, but if there was ever a mention of Easter a lot of us, if not all of us, likely missed it. In any case, the wizarding and muggle worlds did manage to share quite a bit while staying separate, and it seemed better that way since the muggles rarely ever knew what was going. The only reason the Dursley's seemed to know was that they had constant exposure with Harry and had likely become used to it.
But the etymology behind some of the spells and names was simply too interesting at some points since it made a great deal of sense and added a bit of validity to the story that might have otherwise been missing. J.K. Rowling took on a monumental task when she decided to write this story, and in all honesty it seems more like luck than anything that she was published and became a massive hit. She went through a great many rewrites, of that there's no doubt, but the work she put in and the effort that she put up was more than worth it since she became one of the most well-known authors in the world for this story. She's continued to write following the Harry Potter series, but one thing seems pretty certain, and that's the fact that she might never come up with something as impressive as this story again. If she does, then she'll have proven that she's without a doubt one of the greatest authors of our era. You might want to argue that she's already proven this, and you'd be right in part. Harry Potter and his world was her masterpiece as of now, and waiting to see what else she manages to do might be interesting.