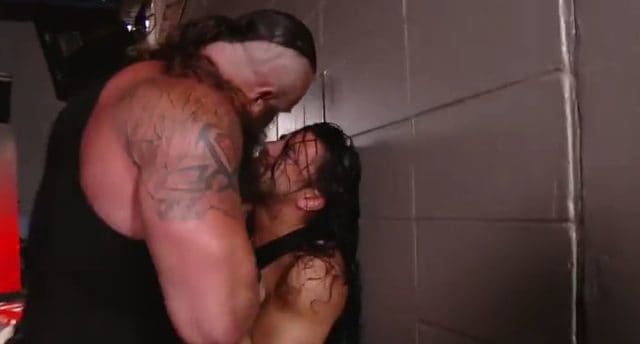 In the history of the WWE, and I'm talking back when it was called the WWF, I don't think I've ever seen a backstage brawl like I saw last night. It's not a secret that fans aren't the biggest supporters of Roman Reigns. Turns out that Braun Strowman isn't either. Boy is he EVER not a fan of Roman Reigns. In a display of sheer madness, will, and strength, Strowman gave Reigns the backstage beatdown of a lifetime on WWE RAW last night.
It came out of absolutely nowhere. We all know these two are not fond of one another but to expect a resurrection of their feud so quickly after Reigns took out the Undertaker at Wrestlemania was a stroke of genius by the WWE. Braun comes out in the middle of a Reigns interview to throw the guy at least 100 feet into a bunch of tables. But it didn't even come close to stopping there. Let's have a look at the video and a play by play below:
The #MonsterAmongMen @BraunStrowman has ambushed #TheBigDog @WWERomanReigns! #RAW pic.twitter.com/fUJKDWStNO

— WWE Universe (@WWEUniverse) April 11, 2017
Here's the toss.
He will stop at NOTHING to destroy @WWERomanReigns! @BraunStrowman is on the loose! #RAW pic.twitter.com/I60ekkgRYp

— WWE (@WWE) April 11, 2017
Here's the powerslam onto a box.
WHAT DID @BraunStrowman just do?! #RAW pic.twitter.com/7ExzDImgQX

— WWE (@WWE) April 11, 2017
Stretcher? Nah. We don't need stretchers. Strowman just tosses it away.
The unthinkable has happened on Monday Night #RAW…@BraunStrowman just tipped over the amublence WITH @WWERomanReigns inside! pic.twitter.com/3KEnwtAkbG

— WWE (@WWE) April 11, 2017
And then he decides to flip over Reigns' ambulance.
Twitter reactions were just as impressive:
This… this is a large human being pic.twitter.com/pqSekW6Laa

— Barstool Sports (@barstoolsports) April 11, 2017
When your Cadbury egg rolls under the car pic.twitter.com/MzTD0yRoPQ

— Clem (@TheClemReport) April 11, 2017
Bae: Come over
Me: Nah
Bae: My dad's not home bc he's en route to the hospital, also he's rich and I get all the inheritance
Me: pic.twitter.com/lQ6yPDla48

— Chris Spags (@ChrisSpags) April 11, 2017
When your insurance premiums are too high. pic.twitter.com/uGs6SBlnF7

— Sean Ross Sapp of Fightful.com (@SeanRossSapp) April 11, 2017