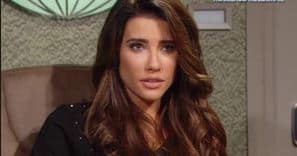 The Bold and the Beautiful fans are going to see a moment in coming days when Steffy starts to doubt her father. It seems to her that the two men she loves the most in the world are the two with the most motive to shoot Bill, and she is not all that certain her father did not do it. She's not going to tell him she thinks he did it. That would crush him. She might, however, make mention of the fact that she's not going to have a good time thinking about it, though.
She thinks her father did it, but we also think that she might change her mind about that when Liam tells her that he thinks he did it himself. She might want to believe that, but she's having a baby with him and wants him back in her life. So she might not want to bother with this at all. She might not want to hear him say these things.
She doesn't want Liam to be guilty, so she might just begin to hope that her father is. If he is guilty, that means Liam won't go to jail and they can raise their baby together if he will ever take her back. This is a real long shot, but it's possible it might happen and everyone can live a good life with one another. It's not going to be easy for any of them, but it could happen. Who will she choose if she has the option?