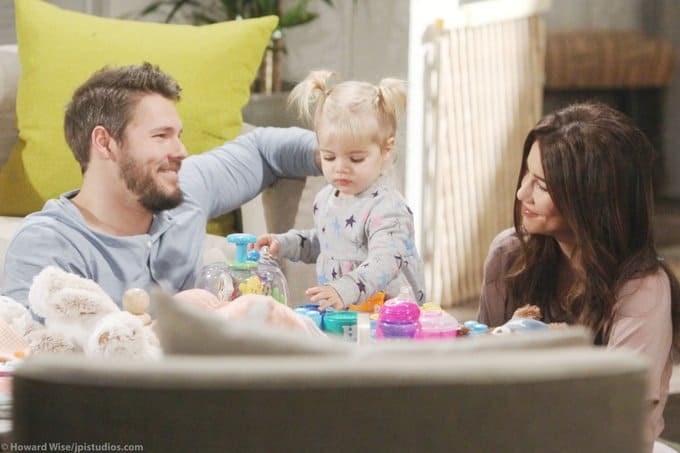 Bold and the Beautiful fans love seeing Kelly spend time with both of her parents at the same time. She loves them both, and even fans love it when Steffy and Liam are together with their daughter. She deserves to have two happy parents who are good to spend time together to be with their daughter to show her she can be just as equally loved even though they aren't with one another. Though, we have to admit that we can see the sparks flying between them. They have a baby together. They are one another's very young loves. They've ben through so much more than most people have been through together, and they have this sweet baby. They even kind of share the baby that he has with Hope considering Steffy unknowingly raised her as her own for the better part of a year. This is a lifelong bond they will have.
They are sparking, big time, and we cannot deny that we think that Hope will not get her way with Liam anymore. They are done, but she wants him back. She wants to be with the man she loves, and we get that. We know that this is all kinds of important to her, but it's not something we want to see happening right now. It's a lot, and it's something that they have to focus on in their own mind. They have to focus on this, they have to deal with this, and they have to make it work, but Thomas will do all he can to make sure it doesn't, and he has Quinn there to help. Brooke is focused on so many enemies right now, so she's got her mind on so many things she's distracted and might not be a big problem for them.
What's Happening on Bold and the Beautiful
Time to get back to our regularly scheduled programming! In case you missed any episodes of #BoldandBeautiful this week, you can watch them here: https://t.co/XZyGlAJO8x pic.twitter.com/dN6qx9Jumb

— Bold & The Beautiful (@BandB_CBS) February 6, 2020
Did you miss any?
What's Next on Bold and the Beautiful
https://twitter.com/BandB_CBS/status/1223984421986086913?ref_src=twsrc%5Etfw
Katie hasn't been around much until just recently. She was recovering from her surgery and all that this entails, but she's back in the limelight now that she is home and returning to her normal life. If we can say one thing about her right now, it is that she seems constantly surprised that Bill is there for her. She's impressed with him and his attentiveness. She seems to be in total shock that he is there for her, that he is doing this for her, and that things are working out for her like this. She's happy about all of it, but there's so much more to this than meets the eye. She's got so much going on, and we cannot handle it. But, then there is the fact that we also know that he's really trying to show her a new side of himself that we don't think will last, but that we are enjoying so much right now.
Sally is not happy with Wyatt. She cannot get over him if he cannot stop trying to follow her around apologizing. His guilt is eating him alive, and she's not having any of it. He's worried for her and he's scared for her, but she's about to shut him down so much that he cannot even come back with anything else in their lives. She's got so much to say, but she's going to make sure he knows that he is no longer a welcome part of her life anymore after what he did to her, and that's final.
Stay tuned for more The Bold and the Beautiful and be sure to check out TVOvermind daily for the latest The Bold and the Beautiful spoilers, news, and updates.