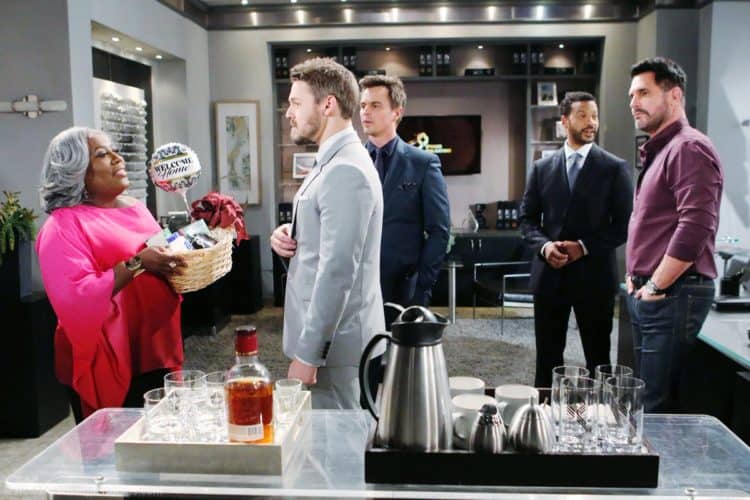 Bold and the Beautiful fans are still shocked that Ridge and Brooke decided it was time to call the end of their marriage into question. They are a couple who has had more problems than anything else, so we are not that shocked that it happened, but we didn't actually see it happening. Does that make sense? We've been thinking they need to do this for some time, but they did not seem as if they would ever do it as a whole, so we didn't see it coming. Now he's talking to Shauna about his feelings, how things are going for them, and what is next in their lives, and that is pretty much all that there is to it. We know that they are a situation of all kinds, but we do know that she is super into him and gave him a kiss to prove it. She won't back down and give him time, though.
On the flip side of things, we also know that there is so much that might go wrong with the other things in the world. Bill has a connection in his friend Emmy, and he is using that to make his life more exciting. There's a lot going down that is going to change with her back in town, and we are thinking that most of what will change is our laughter. She's funny, and we always love having her around when she is in town and giving us her all. She is such an amazing addition to the show, and anytime we get to spend watching her makes us feel pretty good. We welcomed her back with some big open arms, and we hope that she's around for some more time — not just yesterday. We love her.
What's Happening on Bold and the Beautiful
https://twitter.com/BandB_CBS/status/1201530470950793217?ref_src=twsrc%5Etfw
And this is so amazing.
What's Next on Bold and the Beautiful
https://twitter.com/BandB_CBS/status/1199100901203427328?ref_src=twsrc%5Etfw
Quinn happened to walk in at just the right moment when Shauna and Ridge were in the middle of a lovely kiss. There is nothing that will work out for them, in any other capacity. There is nothing that will make anyone make more sense than this, and there is nothing that will work out in their favor. We assume that she wants more information, and we know that she will probably not waste a second asking Shauna to tell her everything . How did it happen? What went on? Is their marriage really over? Are they together now? What is going on with them? She will want to know all about it, and she will want her friend to get what she is meant to get from all of this. There are few things that might make much sense around here, and this is one of them.
Then there is a situation with Wyatt. He's not very Happy with Sally at the moment. They had a little bit of a rough situation when she accidentally put her foot in her mouth at Thanksgiving, and we didn't get to see that happen. We aren't sure how that worked out, and we don't know what to see going on. But, we do know that there is going to be a moment when he decides to make some decisions about his own future, and he will make those clear to Sally after their conversation about all that is going on in their own lives right now. Will this be bad news for our favorite couple?
Stay tuned for more The Bold and the Beautiful and be sure to check out TVOvermind daily for the latest The Bold and the Beautiful spoilers, news, and updates.