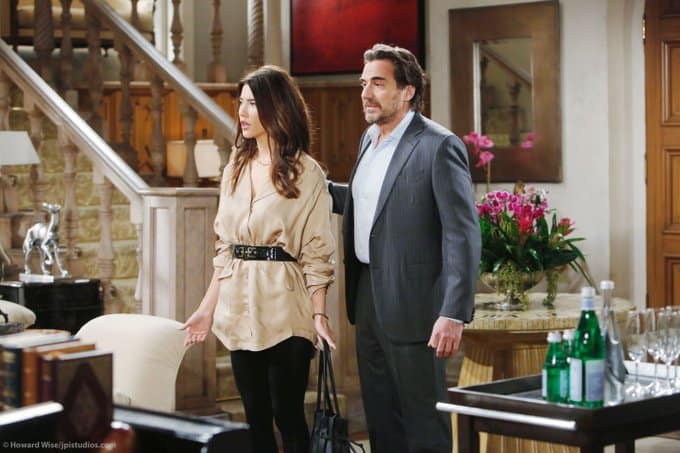 Bold and the Beautiful fans are enjoying so much right now. For one, we know that Quinn knows what Donna found out. She knows that the video of Brooke and Bill kissing exists, and she's not even trying to pretend she does not. She is very happy to have that little bit of information on her side, and she is using it. Her goal right now is to use it for the sole purpose of making sure that Brooke is never comfortable in her life again. It's to make sure that she is going to do what she can to make her life what she needs to make it, and she is going to do what she can to make sure she's good to go. She's got a lot going on, but she's going to make Brooke miserable, and she's good at doing just that right now.
Meanwhile, it's a party. Brooke and Ridge decided to give their marriage a go. He moved back into their home, they decided that they would stop fighting about their kids and be together and focus on their marriage, and they invited all their friends and family to join them as they celebrate that part of their marriage. However, that is not going well for them considering that Brooke is the guest of honor — well half of — and she's not even there. She didn't show up to her own party, and we all know why. Quinn is there, though, and she might have a suggestion about where Brooke is right now, and she might just make this a game that no one can get enough of in the moment. She's not about to stop what she's up to, and we know she's going to enjoy every single moment of that.
What's Happening on Bold and the Beautiful
Looking for something to watch? To enjoy #CBSAllAccess for One Month Free use code: ALL https://t.co/XUQ6uccJLf pic.twitter.com/O3sZ2dzH9v

— CBS All Access (@CBSAllAccess) March 24, 2020
We think this is a fun situation.
What's Next on Bold and the Beautiful
The secret is out, and Quinn's blackmail has just begun! You won't want to miss #BoldandBeautiful this week! pic.twitter.com/2fYcrZSFPi

— Bold & The Beautiful (@BandB_CBS) March 22, 2020
Well, it looks like this is going to be a day that no one wanted to see coming, but especially Ridge and Katie, but we will get to that in a moment. It seems that the sister that Ridge has is back in town as Brooke and his father's daughter decides to attend her brother/stepdad's reunion party. Dr. Bridget Forrester is back in town and she is ready to spend some time with her family — and perhaps even work on keeping Sally alive, if we had to guess why she is really home? We aren't sure, but that reason is one of those that keeps going around and making rumors seem true, so we will go with that one for now. But, the real reason she is home for now is her mom's party. She's here to celebrate.
And, speaking of her mother, things are about to change. She's about to see the life she literally just decided to go back to change right in front of her eyes as Quinn does exactly what she said she was going to do. She plays the video of Brooke and Bill kissing recently in front of everyone at the party. There will be complete silence as everyone watches this unfold, and we can say that we feel the fallout from this situation is going to be the most horrible, most insane, and craziest reaction. It's not going to end well, and we can say that Katie and Ridge are probably not going to be very forgiving right now.
Stay tuned for more The Bold and the Beautiful and be sure to check out TVOvermind daily for the latest The Bold and the Beautiful spoilers, news, and updates.