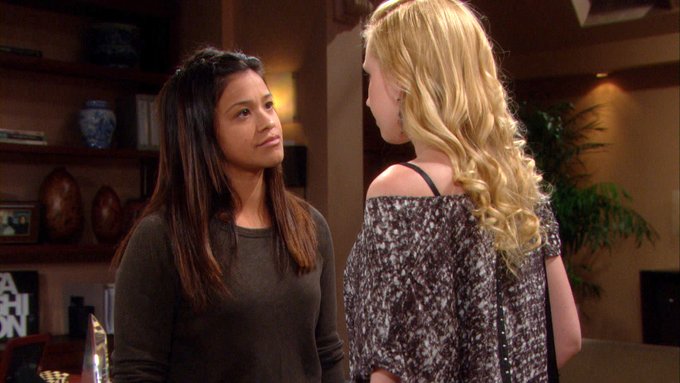 Bold and the Beautiful fans love when things seem to come together as well as they have been this week, so we are all about what is up. There is so much fun with the classic clashes situation, and today is a good one. Today, we are taking things back on 1995 when Sheila was in town and looking for a way to make everyone pay for her horrible behavior. We all remember that this was the time she was not happy with Stephanie. Oh, who are we kidding? No time is the time she is happy with Stephanie. She was not happy that the lovely Forrester decided to keep her from being with Eric, and she was threatening to kill her. There was an abundance of people who decided that they would do their very best to stop her from wanting to kill her, but she wasn't having any of it. There's a lot going on today, too. We get to see that Jack is not sure why Ridge was happy to marry Brooke even though Taylor only just died — allegedly — and Darla was all over getting a new hairdresser for Sally in this situation. It's all a mess, but that doesn't matter. We want to know more about what brought Sheila to LA for the first time.
She Faked Her Genoa City Death
When you're in trouble like she was, you might not know how to get out of it. She did, though. She decided she would do her very best to make sure that the world thought she was dead, so she faked her death. That gave her the opportunity to head to Los Angeles and start a new life while all the people who thought she was dead and gone were able to sit back and ignore the fact that they needed to be looking for her. She came into town and she found an ad in the paper, the local paper at the local diner, asking for someone to come into the Forrester as the company nurse. Being a nurse and all of that, she was able to take the job.
She Became a Nanny
She also decided she would do everything she could to get into this family's life. A rich, handsome man who needed someone to be with? She was all over that. She was hired as the fashion house nurse, and she was also hired as the nanny for little Rick Forrester. She took the job so that she could spend more time with Eric. Of course, to do this, she had to make sure that his actual nanny was injured to the point that she could no longer watch the boy, so she did what she had to do to make that happen.
She Wormed Her Way Into the Family
She did all she had to do to make sure that Eric fell for her. She studied him, learned about him, loved his family more than anything so that he could love to love her. She connived her way into his heart, and they decided to get engaged. Of course, this did not go over well with the lovely Stephanie. She's a woman who was very protective of her family and the people in her life, and she did what she had to do to find out what was going on with this woman. She was correct in labeling her a gold digger and a liar and a woman who was only out to get this family to get what she needed, and we knew that she was right.
The Paternity Test
The one thing that did not make her happy was learning that Eric's most recent ex was pregnant. The baby was either his, or it was Ridge's. She was worried that if he found out the baby Brooke was carrying was his own, he would leave Sheila to be with her. So, she changed the results of the paternity test and made it seem that the baby's father was Ridge so she could have Eric all to herself. We know that this did not go over well with anyone, and it all came crashing down.