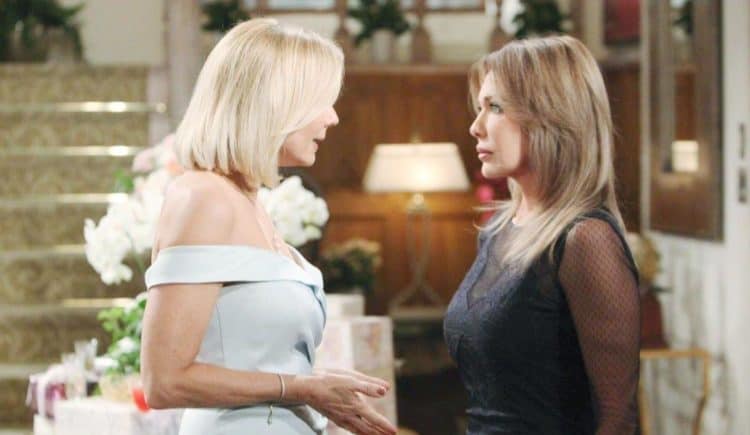 Bold and the Beautiful fans love when things go wrong, and people find out. That is one of those things that works so well for us when it comes to the entertainment value of all of it, and it's so good to see. For example, we are going to spend this day headed back to 2016 when Wyatt found out his mother did one of the most disgusting things. He's going to find out that his mother kidnapped his brother. She's got him thinking that they are a married couple because she hit him over the head and he simply does not remember much of anything else. On the other side of things, we also know that Bill is not happy about the fact that Steffy really thinks that Liam is just out in the world looking to find himself. Liam, however, is beginning to remember his life and his identity, and he knows he's in trouble. Wyatt is there, he's realized what is going on, and the two of them lock her in a closet so he can go home to Steffy. We want to take a look back to see all that is wrong with this entire situation from start to finish.
Wyatt Loved Steffy
This is one of those classic moments that we just don't like. Wyatt was in love with the woman of his brother's dreams. Steffy and Liam were together, but they were going through a rough patch and Liam wasn't sure what he wanted. But, Steffy decided that she would wait for him. She was close friends with Wyatt, and she was unaware that he felt more than that. Quinn, on the other hand, knew that her own son loved Steffy so much, and she wanted to do what she could to ensure that Liam and Steffy did not get back together and break Wyatt's heart yet again. So, she decided to do some bad things. The problem is that while Steffy wasn't sure what Liam wanted, he did want to be with her, which left her sad and vulnerable.
The Kidnapping
When Quinn realized that Liam wasn't going to leave Steffy, she did what she had to do so that her son could win. She hit him over the head, took him to the cabin, and she sent off a text telling Steffy that he was going to find himself and get lost in the world and not come back for some time because he needed to be alone. She sent the text from Liam's phone, and that was a whole thing. But, now we have to sit here, realize that some things are just working out poorly, and watch as Liam wakes up and has no clue who he is.
That's when Quinn decides to tell him that they are a married couple, and that they are in the cabin looking for some peace. They begin to fall for one another in their situation, and it's kind of gross to watch because that is the man who is her son's half-brother. They might not be related, but she's still trying to sleep with a young man who is her son's brother. It's kind of gross.
Wyatt and Steffy Wed
Without Liam in the picture, Steffy allows her heart to break, Wyatt to kiss her, and she begins to move on. This allows her to spend more time with Wyatt and develop feelings for him. They wed, and they do seem happy for some time. They begin a quest to turn her into a social media star, and they are living the high life. They do seem like they are on top of the world the entire time that Liam is gone, but that's when things begin to turn around for all of them. Wyatt isn't sure that he's gone, Bill is not sure that he is gone, and Wyatt finds out the truth. This is when he has to do the unthinkable and allow the truth to come out because it's not fair. He does this knowing he could lose his wife to her ex, and that's exactly what happens. Not right away, but in time he loses her to him again.