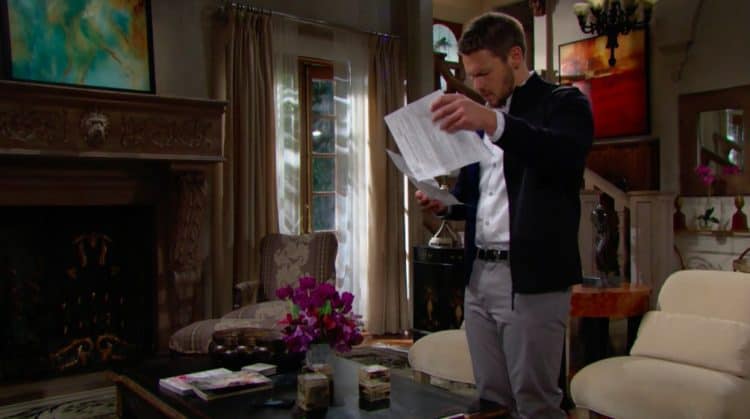 Bold and the Beautiful fans know that Hope killed Thomas, and that he is not going to be around to stop her from getting his son. She has custody of him now, and she has shared this news with her mother. She is horrified by what she did, but she is happy that she gets to have Douglas. Meanwhile, his aunt and his grandfather don't know any of this yet, and they will be more than a little bit upset when the truth comes out. They are unhappy with the course of action being taken right now, and Steffy has warned her father that Brooke and Hope will do anything they can to take what they want. It looks like they did just that, too. But, that's not all. We know that Liam will find out, and we don't know that he is nearly as happy as Hope is about getting custody of this child. He's been having such a good time with Steffy and the girls lately, and Hope has been off doing things that aren't related to their family.
Hope is also reactive of the news that Liam is going to work with his father, and we don't think that this is what she wants from him. We almost think that she wants something else for him, like for him to work with her at Forrester, even though that family is not related to them at all. There is so much going on here that might work out for her, but so much that might bring her world down a few notches. When they all find out what happened to Thomas and that she mysteriously gets custody at this point, they will all know what happened. And we don't think Liam will look at her the same way again.
What's Happening on Bold and the Beautiful
This is definitely NOT the future these two had planned on their wedding day. What do you think will happen next? #BoldandBeautiful pic.twitter.com/aUliA8WC1a

— Bold & The Beautiful (@BandB_CBS) November 12, 2019
It might kind of be her future she had planned on her wedding day.
What's Next on Bold and the Beautiful
Hope struggles with the truth this week on #BoldandBeautiful. pic.twitter.com/r7zmjRaQLu

— Bold & The Beautiful (@BandB_CBS) November 10, 2019
Ridge is not in a good place right now. He is learning that the plan that Hope shared with her mother, his wife, worked. She was able to get his own son to sign paperwork agreeing to give her custody of his son, and he is nothing short of totally shocked. He did not see her making this happen. Well, none of us did, but Ridge does not yet know the entire story of all that happened. He will, eventually if we had to guess, but not right this moment. For now, though, we can see that some things will take a much uglier turn than we anticipated. We can see that some things are bigger and more effective, and we can see that some things will never change.
One thing that will never change is the fact that we can see Liam and Steffy continue to grow closer together as a family. They are both family to both girls in their minds, and they are continuing to spend time together as a family. They are bonding. They are spending some quality time together with these girls they both love, and we think we all know that this is going to become a problem for Hope at some point. She will not like that this is happening in her life. She will not like that this is a situation that will be handled in any capacity, and she will not like that her man is spending all this time with his 'other' family.
Stay tuned for more The Bold and the Beautiful and be sure to check out TVOvermind daily for the latest The Bold and the Beautiful spoilers, news, and updates.