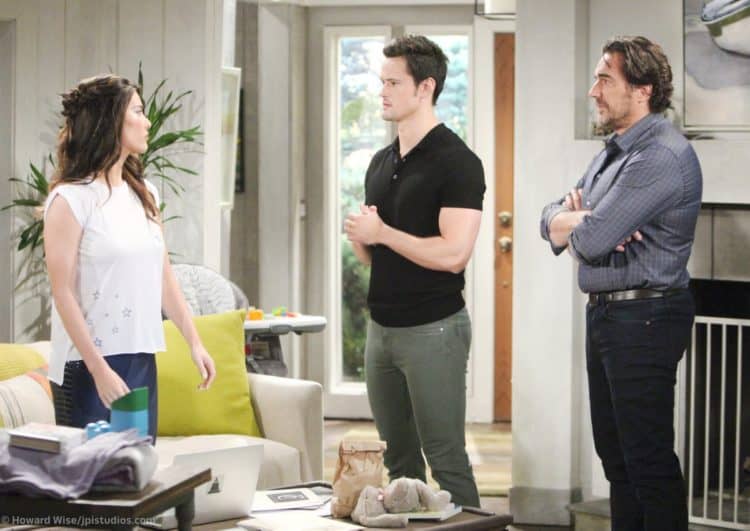 The Bold and the Beautiful fans aren't sure how to focus on anything other than what is happening around here right now. There is so much that might go wrong. There is so much we might not be able to focus on, and there is so much we might not be able to handle, but we can handle a few things as they are happening to the world around us. For one, we can see that Thomas is a mess, and he will take everyone down with him. His father should have let him go to prison, and we are beginning to think he might just see that. Thomas made it very clear he was the one who found out Ridge spent the night with Shauna, even if they didn't sleep together, and he made sure his stepmother found out about it. Brooke is not happy, of course.
Shauna will do anything and everything she can to make this man fall for her. Hope and Liam are doing everything in their power to get custody of Douglas and make him part of their own family and their own son, and that will make this child a happy little boy. Of course, that also means that there are a few other things to contend with as well. One such thing, for example, is how things are going for everyone else. We know that there is a lot happening with and for Katie, and we hope that she is able to get the medical help she needs to survive. She's going through a lot right now, and Bill has been there for her. That has been the one silver lining in all of this recently, and we are not all that mad about it. It's been a very interesting situation for everyone.
What's Happening on Bold and the Beautiful
She's Bold… She's Beautiful…Â She's @thecourtneyhope and she's making her #PriceIsRight DEBUT today!! @BandB_CBS pic.twitter.com/7tvmCTParm

— The Price Is Right (@PriceIsRight) October 3, 2019
We love her.
What's Next on Bold and the Beautiful
Shauna's obsession could destroy Ridge's life. See what happens this week on #BoldandBeautiful! pic.twitter.com/gXvTBJJjgg

— Bold & The Beautiful (@BandB_CBS) September 29, 2019
Brooke is not happy with Shauna, again, and she's making some very informed decisions in her life. She has taken it upon herself to order Shauna to stay away from Ridge, her family, and everyone in her life. She does not want to see this woman again, and she cannot make herself any clearer. She hates Shauna for what she and her daughter did to Brooke's daughter and Liam, and she hates her even more for putting her husband in a situation that kept him from coming home and being with her. She's not even remotely concerned with how bad her own marriage is at the moment. She merely wants this woman out of her life and away from her family, and we get it. There's not much else we can do about that, either.
Then there is the situation with Thomas, who is now a very happy man when he learns that Ridge and Brooke are no longer living together in the moment. Things are taking a very ugly turn for them, and that's not a shocking surprise, but it does make his son feel happy to know that he managed to get a bit of what he wanted in this situation. He's not a great person, and we know this. He's a mess, he makes poor choices, and he's not someone who will do anything good if he's given an option. He's someone who doesn't make us even want to like him in the least.
Stay tuned for more The Bold and the Beautiful and be sure to check out TVOvermind daily for the latest The Bold and the Beautiful spoilers, news, and updates.