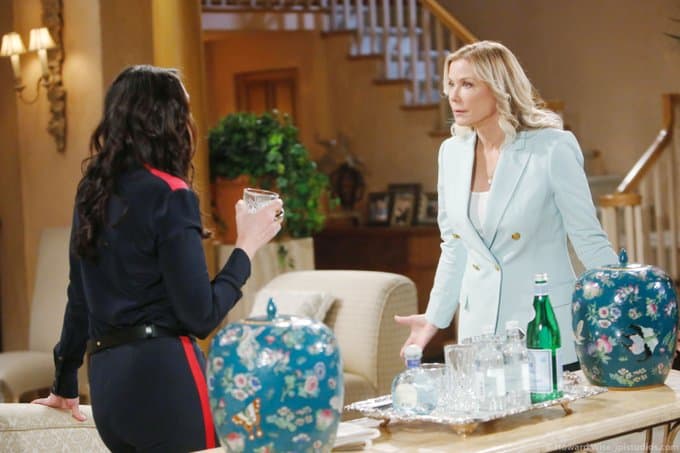 Bold and the Beautiful fans know that Wyatt is not in a good place. Flo is the one who came up with the idea to fake break up so that he could be with Sally when they found out that she was dying. She was terminally ill — though we all know now that she is not — and Flo knew that Wyatt was living with a lot of guilt because he left her and didn't know she was dying. Flo wanted to end things with Wyatt and have him go move back in with Sally and give her some happiness in her life while she lived out the last few weeks of her life, but now Flo is starting to realize that there is a very good chance that Sally is not dying, that this is not happening, and that this is a big problem. So, how do they handle this? Well, she's telling Wyatt that Sally has to move out of his home.
And Wyatt is not sure what to do. You see, he's loved Sally for a very long time. He has since they reconnected a while ago, and they did have a drama-free and very happy relationship until Flo came into the picture. This was a problem, and now she's a bigger problem. So, he's not sure what to do or how to let this happen in his life. He loves Sally, and he's not really sure he's all right with just moving her out and allowing any of this to happen. Meanwhile, we also know that Brooke has tracked down her husband while he and Shauna are having a great and romantic night out in Las Vegas. Will she interrupt them and make it her priority to get him back, or leave them alone? Not her style.
What's Happening on Bold and the Beautiful
While many are asked to stay home #AloneTogether, frontline healthcare workers are being asked to step forward. On this #WorldHealthDay, please donate to the First Responders Fund now: https://t.co/cpd96LZ5Bu pic.twitter.com/CqmuesOhJB

— CBS (@CBS) April 7, 2020
We love the healthcare workers who are here for us.
What's Next on Bold and the Beautiful
Sally sees a happy ending with Wyatt, but there's just one thing in the way. Tune in to see what happens on #BoldandBeautiful this week! pic.twitter.com/CYtt2EUxZo

— Bold & The Beautiful (@BandB_CBS) April 12, 2020
Flo is making things difficult for Wyatt, and that is something that Sally is aware of. She knows that Flo is going to find out the total truth before much longer, and she has to play this right. So, what she is doing is playing this the way that makes her look so much better than anything else. She's not stupid. While she knows that Flo is going behind her back and demanding that Sally move out and telling Wyatt that Sally is a horrible person and that she is up to no good, and so on and so forth, Sally is just being as sweet as she can be to and about Flo. This makes her look so much better to Wyatt while Flo is making herself look horrible. How could Flo not like Sally when Sally is so clearly fond of Flo? She's fighting hard to keep her real feelings about Flo to herself, and she's going to continue to do that.
Bill is not happy with Quinn. He's spent the past few weeks doing all he can to find out how to fix his marriage to Katie, and he's been giving it his all. But, he's not happy with Quinn, and he is making the time to let her know that he is not happy with her. He's not about to allow her to sit here and focus on things in his life as a bypass to her own agenda. He's going to issue a threat to her that makes her realize she has to give this up and make it stop.
Stay tuned for more The Bold and the Beautiful and be sure to check out TVOvermind daily for the latest The Bold and the Beautiful spoilers, news, and updates.
Tell us what's wrong with this post? How could we improve it? :)
Let us improve this post!