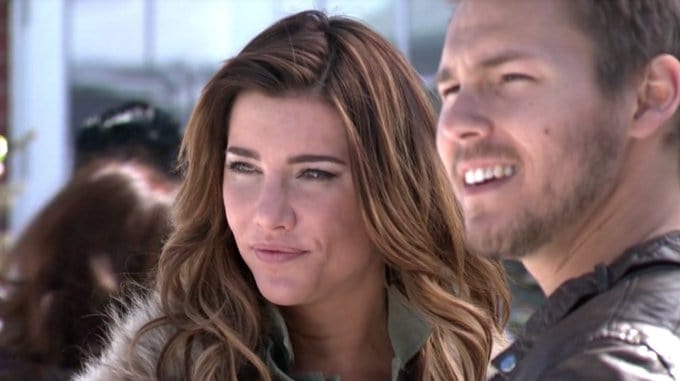 Bold and the Beautiful fans are going back in time once again to 2017 when everyone was in Sydney for the fourth day of Rivalry Week. Once again, we are looking at the wedding week of Liam and Steffy, but this is not the day in which things are going to be a wedding-like haze. This is the day in which Bill has to help his son prepare for the wedding that he is about to have, even though Bill does not want to be there at all. He's not happy to see the woman that he loves, Brooke, with the man he hates more than anyone in the world. This is a hard week for him. Meanwhile, Steffy and her cousin, Ivy, are doing a photoshoot for the company in front of the Sydney Opera House, and that's a thing unto itself. Either way, this is a good time to break down what is up with Ivy, since this is one of the last years she was part of the show and we got to see her there in person.
She Came from Australia
Ivy was brought in from Australia when she was first introduced to the show. Her uncle is Eric, and she was there to work with the Quinn jewelry line following the time she was fired from the Forrester family company. Ivy was not part of Quinn's family, but Rick brought her in to work with the family because they just got rid of the woman who was designing their jewelry. Since she had her own company in the other country, they did think that she might be able to focus on things that were good for them in the states. They were all so excited about her and what she had to offer, and they were going to see if she could help take the family name even bigger. They had no idea just how much drama having her in LA would bring to certain people in the family.
She Met Liam Through Hope
When she was brought into the company her own family owns, she was asked to design jewelry for Hope's line "Hope for the Future," at the time. She was happy to do so, and they all got along really well. That's when Hope introduced Ivy to her own fiancé, Liam Spencer. That was a horrible idea. Ivy and Liam become friendly, and she quickly learns that he and Hope are not okay even though they are planning a wedding. Wyatt clearly has some feelings for Hope and his mother was clearly a problem or him and for everyone he had in his life at that moment, and she finds herself becoming closer to Liam and feeling a little sorry for him in his life.
Ivy's Fall Changed Everything
It was a whole situation in which Quinn wanted to make sure that Liam and Hope broke up so that she would marry Wyatt, and it worked. She pushed Ivy into the Seine in Paris when she was helping her friend Liam get to Hope at the Eiffel Tower to make sure things worked out. He had to save her, so he didn't make it. He was too late, and she went off and married Wyatt. That's when Ivy and Liam began to develop feelings for one another. Hope didn't like it, but Ivy quickly reminded her she's the one who got married just because Liam didn't show up on time, and that it was her mother-in-law's fault this happened.
Liam and Ivy begin a very casual situation with one another, and Hope is not handling it well. Even though she was pregnant with Wyatt's baby, but the baby did not make it, and Ivy is okay with that. Things are just fine for them, but only until Steffy comes back to town. She is Ivy's cousin, and she's still in love with her ex — Liam — and she's going to get him back. Ivy couldn't take much more of all of it, and she was just no match for Steffy at that point in their lives. It was nothing good for any of them, to be very honest. That's when her first round of Forrester drama ended.