It was bound to happen. Everyone's favorite TV painter Bob Ross now has a Funko Pop! character of his very own. And doesn't it just look like a happy little Funko character? On the flip side his fro looks a little squashed, so maybe that's why his eyebrows make it look like he's worried. Remember, his fro has always been one of the more iconic parts of who he is on the show, but it's understandable that it's not bigger. If it was he'd probably look like a rather frumpy troll doll.
Bob passed away back in 1995, a while before Funko Pop! was even up and running. He had his own show, the Joy of Painting, and if we're all being honest we watched it at least once or twice in our lifetime, at the bare minimum. It's the kind of show that was on somewhere between cartoons and the evening programming and that you tended to flip past as soon as you found out what it was. If you were a painter you might have stopped a time or two and actually watched, as he did produce some good work.
Overall though Bob's show was something that a lot of people glanced at and then moved on. If there was absolutely nothing on the TV then you might have stopped for a couple of minutes just to see the picture come together. But no matter if he got ratings or not he always had a smile on his face and he always seemed to enjoy what he was doing. That was part of what made Bob Ross so special because he was actually having a good time on a show that a lot of people never even bothered to watch. And it still made him a celebrity in ways that some people just wouldn't count as admirable.
In short he's been spoofed quite a few times throughout pop culture largely because he didn't have the huge audiences or the big, flashy show. He wasn't the pop culture icon that some people were and for that he was made fun of and derided a few times even those some shows and people called it an homage. In truth, he was actually one of the most real people on TV and despite not watching him that often I found a certain respect for the man that he'd continue to come on TV and do what he did day in and day out. True, his show was likely recorded and then run whenever it was afforded a time slot, but the fact is he still did it and he still had a good time.
I feel like this Funko should have come out quite a while ago but it's enough that it did at all. Bob Ross more than earned his place in TV history and he should be given a certain level of respect. While it's not exactly a statue or even a plaque, it's something that will still last and be recognized as a part of TV history that finally found its due.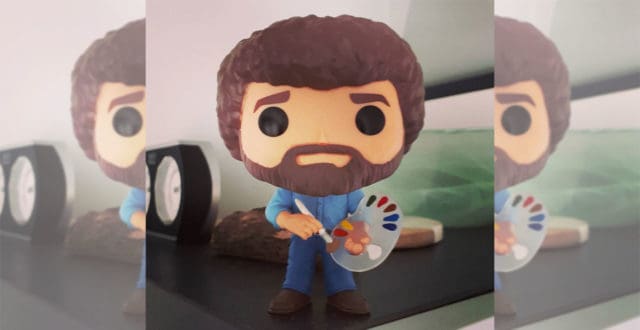 Save
Save