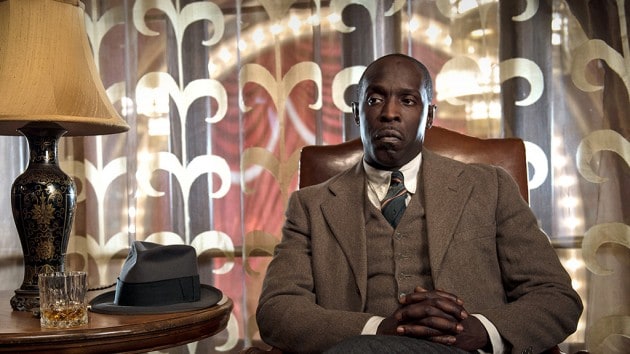 An episode like last night's "King of Norway" is a great example of why I find it so difficult to review Boardwalk Empire on a weekly basis. Purely based on its own merits, "King of Norway" was a very strong episode for the show, filled with tense, gripping and even some very funny scenes. However, with only three episodes left in the entire series of Boardwalk Empire, I still can't help but feel that the great stuff that we got last night isn't going to add up, and that only three more hours with these characters won't be enough to fully do justice to them all.
But instead of me worrying about the bigger picture of how Boardwalk Empire will be remembered as a series, let's talk about some of the standout moments from "King of Norway," starting with the most awkward dinner that television has seen since Jesse Pinkman sad down to eat with the Whites during the final season of Breaking Bad. The family meal that Eli and his wife share with Van Alden and his family is the centerpiece of last night's episode, and it leads to several memorable moments, from Eli's startling revelation that he's been sleeping with Sigrid during his drunken blackouts to both him and Van Alden being forced to go undercover and steal from records from Capone by the feds. As both men realize, what they're being tasked with by Mike D'Angelo is essentially a suicide mission, and with the end being nigh on Boardwalk Empire, there's a very good chance that Van Alden or Eli (or both of them) could die, making for a great story development that elevates the material in Chicago from Stephen Graham chewing scenery into some of the most dramatic stuff on the show.
Speaking of storylines that had some extra adrenaline stabbed into them this week, Chalky's return to Atlantic City is short-lived but only because he heads to Harlem by episode's end to seek revenge on Narcisse. The confrontation between these two men, who both drove so much of the excellent drama that made up the fourth season of Boardwalk Empire, would be the worth the wait itself, but then the series decides to throw another curve ball at us when Chalky stumbles upon Daughter, who now has a little girl of her own (whether it's Chalky or Narcisse's is still unknown at this point).
And it's this episode ending twist that really puts what this final season of Boardwalk Empire (and maybe the whole series itself) has been about: family. So much of what drives these characters is money and power, but it's also about protecting and taking care of not only themselves but their loved ones (blood-related or not, doesn't matter) and finding that place of home that never changes, no matter how much violence or carnage they may have seen that day.
Power, money, and yet still family are what drives both the Nucky Thompson of old back in 1897 (played to absolute perfection by British actor Marc Pickering) and the Nucky of 1931, as the younger Enoch promises his potential father-in-law that he will be able to provide for his daughter while the older one seeks a way out of the deadly crime that has made up so much of his life. Nucky views the three words as an equation of sorts; with power and money, he can be responsible for a family, take care of them and protect them, and thus create a home for himself. That's why he asks Sheriff Lindsay if he can be involved with the Commodore's other tasks back in 1897 and also why he's eyeing the stock of Mayflower Grain in 1931.
Ultimately, though, nothing, not power, money, or family, matter when you're dead, and as we see again in this episode through another assassination attempt not only Nucky but also on Marazano, you must deal with the life you've lived before you can move onto a new one. Three episodes remain to show us if Nucky will be able to make that leap forward or if the sins of his past (and the bullets of Luciano and Lansky) will prevent him from doing so.
Other thoughts:
– Sorry about the lateness of this review. Having to review the season four premiere of Homeland (which was two hours last night), plus work and health-related issues prevented me from watching this episode until this afternoon.
– While I very much enjoy Gretchen Mol's performance and truly felt frightened and even sorry for Gillian (words I never thought I'd be writing) in that scene with the doctor, here storyline seems the most "out there" right now, and I have no idea how or if it will be able to connect with any of the more central plots from this season.
– The conversation between young, Deputy Enoch Thompson and Mabel's father was fantastic and probably my favorite scene of the episode. "I don't think you know what you are."
– "Chester that would sound better much further away." And, my friends, we have a new winner for my favorite Nelson Van Alden line delivery of all-time. God bless Michael Shannon and everything he does on this show.
– I've stayed away from historical spoilers for Boardwalk Empire and haven't read about Al Capone-related in a long, long time, so if he does actually get brought up on charges for tax evasion, after everything he's done, I would find that both fitting and hilarious.
– "Doesn't anybody drink anymore?"
What did everyone else think of last night's episode of Boardwalk Empire?
Photo via HBO