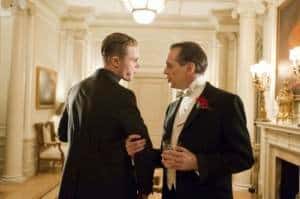 With the exception of one rather surprising moment, the season finale of Boardwalk's first season went pretty much as expected. The question is: does this make it disappointing?
It depends on your expectations. If you came in looking for a major cliffhanger or defining moment, you may have walked away a bit let down. But Boardwalk has never been about the big moments as much it has the small ones. And although 1.12 wasn't its strongest episode of the season, its subtleties spoke volumes and prepared us for the season to come.
So what was the surprise? Lucy's (Paz de la Huerta) pregnancy. Van Alden asked for a sign from God, and boy did he get it (or maybe he'll get a boy?). It's such a deviously perfect development. "He did succumb," Van Alden tells us at the episode's opening, and of course he's talking about himself. This is what makes him one of the most fascinating characters: he's a walking paradox. The deepest sinners are typically those who preach against sin the loudest and now it's finally caught up to him. To Van Alden, killing Sepso was nothing in the eyes of God because he was carrying out His judgement. But this? There will be no greater penance than destroying Atlantic City's forsaken.
What wasn't surprising was Commodore's (Dabney Coleman) play for Jimmy (Michael Pitt) to bring down Nucky (Steve Buscemi). Still, we learned why the Commodore has such deep resentment towards Nucky and it will be interesting to see how in the world Eli (Shea Whigham) works together with Jimmy. Blood is thicker than water, especially when it's spilled. Apparently it made no difference to Eli that Nucky never intended to to keep him out as sheriff. There's simply too much sibling resentment at work.
There were more payoffs to be found as well, including Nucky's big reveal about the death of his wife and child to Maggie (Kelly Macdonald). Now we understand more of the source of Nucky's kindness: guilt. "We all have to decide how much sin we can live with," Nucky tells her. Based on the killings of the D'Alessio brothers (contrasted beautifully with Nucky's political anti-crime speech, even if it was a little too Godfather-esque), it's a lot. Still, as much as we might come to hate Nucky for his smooth, bloodless manipulations like Jimmy and Eli do, the tragic story of his wife and child make it difficult not to at least understand him. Much like Jimmy's war nightmares or Richard's (Jack Huston) mask, Boardwalk always gives us the source of the dark wound that creates a violent man. And while some might accuse the series of being too obvious in this respect, it's far better than never giving us any reasons at all.
It didn't take long for Maggie to get her corruption back on, did it? Just one bit of torn rag in an Irish cake and she was back at the victory ball, ready to dance with the devil. Just the thought of going back to a life of possible destitution was enough to have her scurrying back, albeit with a renewed empathy for Nucky's tragedy (or was this simply the source of her rationalization?). Finally, we see her take a drink and her cycle is complete. She's accepted how much sin she can live with. She's gone completely over now and there's a part of us that, despite ourselves, loves her for it.
From Chalky (Michael K. Williams) to Lucy, everyone played their hand in the game of life sung in the final montage. Even Angela (Aleksa Palladino) finally had her moment when she cut her hair off, finally learning to use her feminine power to gain even the smallest bit of control over Jimmy.
On Hallows' Eve, no one living is righteous before the eyes of God. There are some masks we can never take off, even if we only pretend to wear them once a year. The finale of Season One was a culmination of the long descent into moral perversion for all of our characters that, like in any great tragedy, will eventually destroy them all. The season may not have ended with a loud bang or left us with our mouths wide open, but that's how such things happen: quietly, behind closed doors, with men like Nucky who pull the strings while believing they are still good and kind.
God Bless America indeed.
Grade: B+