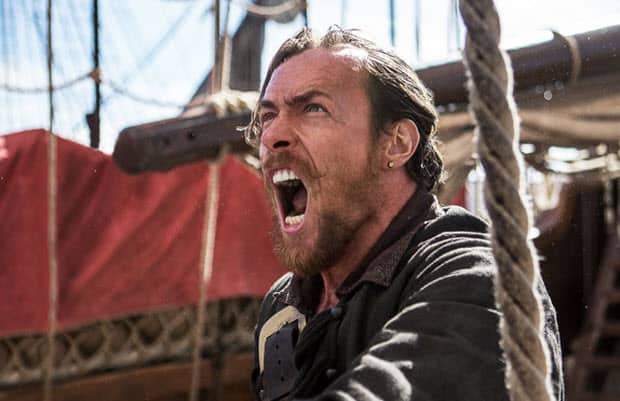 The sixth episode of the new Starz drama Black Sails was a dark and tense viewing that is designed to build up to what appears to be something special. I have my doubts…….. The episode as a whole left a lot to be desired, but needless to say were sticking with the series until the season finale.
The episode was built on the premise that the Scarborough is near the Walrus. Oh, danger is imminent. Ultimately, the specter of danger that the ship is near doesn't do much for me for the episode. The situation with Walrus and Andromache is pretty confusing. I really don't get what's going on with the slaves tucked into an impenetrable bunker. That, of course, all comes to a head when the slaves rise up and kill the Andromache crew. Finally at the end of the show we got some pirate action at the end of the show that lead to Billy's (what's made to be) death.
The story behind Flint's treachery and potential betrayal is also unsettling. The good news is Billy Bones doesn't die (despite going overboard after the explosion and conflict) – sorry to spoil the story, but for those of you who have read Treasure Island know this to be true. There's an interesting dynamic going on here with Gates, Billy and Flint.
Anne Bonny seems to have taken a liking to Max. Her decision to free her over a duel seems odd considering she hasn't had much trouble killing anyone with a sword. Keeping true to character she doesn't say a word to her after saving her. Bonny seems to be a character with an interesting future, very intriguing character. The Bonny story with Rackham was pretty good. Like I said she's a good character
Then there is the enigma Miranda Barlow, who out of nowhere decides to make out with the pastor that sweats her hardcore. There are so many different possibilities to explore there is sure to be a twist at the end. Who's lying and who's not? That will be interesting to see as the season plays out.
Perhaps the most exciting thing to look forward to is Vane's future with Captain Blackbeard. They may try and drag this legend in because it's been told that Vane sailed with Blackbeard.
Let's keep pressing on and see how the show develops.
[Photo via Starz]