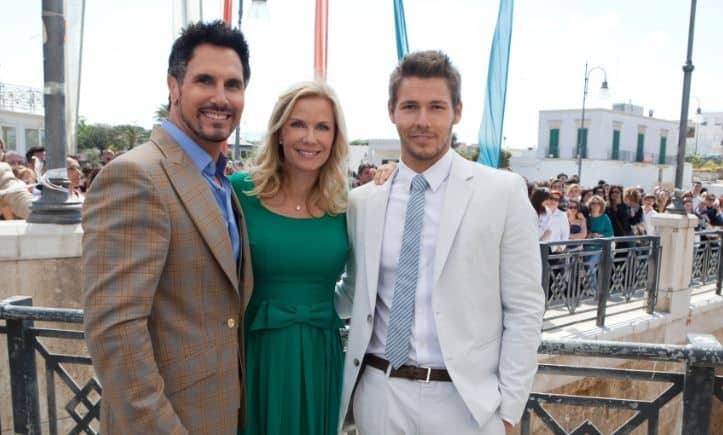 The Bold and the Beautiful fans have watched for years as Steffy and Hope have butted heads and not gotten along. Their parents have been married a time or two (or ten) and they are going to face this situation the rest of their lives. They've never gotten along well in life, and this is one of those times in their lives they simply are not getting along well. The thing here, though, is that they seem to have made the biggest stride in their relationship over the past few months. For some reason, becoming a mother has changed the entire mindset that Steffy has gone through, and she's become a much bigger person. She's managed to grow up and to show off her own mature side, but she cannot seem to get Hope to stop arguing with her about everything. And a lot of that is Brooke. She steps in to this situation where she is clearly not wanted, and it's never good news for anyone. There's nothing she can do.
They fought again, and we are not surprised by any of it. And then there is Zoe. She's all over the fact that Xander is modeling now, and she's loving all the time she gets to spend with him at work as they shoot together. She gets to flirt with him, and she's having no problem doing that right in front of his new girlfriend, Emma. There's not much that he can do at this point but sit back and enjoy it because he's not a strong enough personality to make it stop to protect his relationship with Emma. In fact, he actually likes it. And he will allow this to continue no matter what else goes on in his life. He's someone who cannot seem to get over this, and we are watching.
What's Happening on The Bold and the Beautiful
If you could have anything from the #BoldandBeautiful set, what would it be? Get inspo from some of our wonderful cast! pic.twitter.com/2pSMfvIKvf

— Bold & The Beautiful (@BandB_CBS) September 19, 2018
We told you before this has become our favorite online segment in recent days, and we haven't changed our minds about that. What would you take from the set if you have the chance to get anything you want? Find out from your favorite cast members what they want to take with them…or maybe what they've already taken?
What's Next on the Bold and the Beautiful
TODAY: Brooke addresses Bill's sudden and unexpected kiss. #BoldandBeautiful pic.twitter.com/D6DABNqEO0

— Bold & The Beautiful (@BandB_CBS) September 17, 2018
We have no idea why Bill and Ridge cannot just mind their own business and stay out of one another's lives, but they cannot. They seem to have some serious issues making things work for themselves, and we have to sit back and ask ourselves why Ridge feels he has to step in and try to fight this custody battle with his brother. First and foremost, Thorne just asked Katie to marry him a week ago. This is not his fight. If Katie wants to try and get the full custody of her son from her ex, that's her business and they should stay out of it while they offer their support to her. But Ridge has, once again, clashed with Bill, and now he feels that he has to get into the middle of this battle that has zero things to do with him.
We assume he's just mad because Bill came to Ridge's wife and confided in her, is spending a lot of time with her, and is getting in her life. And he doesn't like it. We are with Ridge on that one, though. Bill needs to back off and respect his marriage to Brooke, but Brooke also needs to respect her own marriage to Bill. They have a lot of stuff going on in their lives, and it's not going to work for them in any capacity. They are having some trouble, and she cannot seem to make that stop. It's bad news all the way around. We can't stop it.
Stay tuned for more The Bold and the Beautiful and be sure to check out TVOvermind daily for the latest The Bold and the Beautiful spoilers, news, and updates.