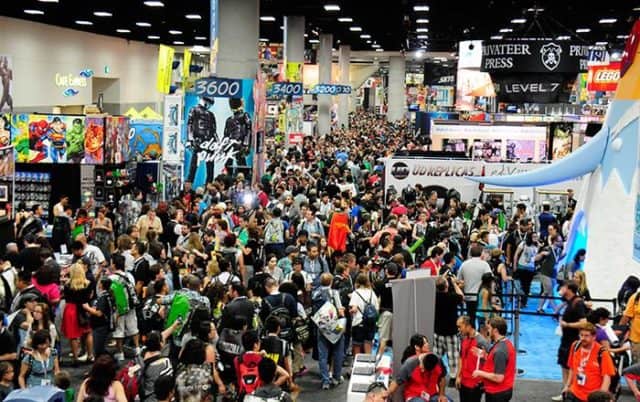 For science-fiction and comic book fans, the San Diego Comic-Con is one of the most exciting events of the year. This three-day event is hosted at the San Diego Convention Center each year and is a fantastic place to find out more about past current and future films, television shows, books, comics, and products. Both dealers and comic enthusiasts attend this annual event and enjoy a jam-packed program of displays, exhibitions, talks, and screenings. One aspect of San Diego Comic-Con that visitors love is the TV shows that attend. Here are some of the top TV shows that are attending San Diego Comic-Con in 2017.
Justice League Action
This animated TV series premiered on December 16, 2016, on the Cartoon Network. It is based on the DC Comics superhero team, also called Justice League Action, by Gardner Fox. It features the voices of Jason J. Lewis, Kevin Conroy, and Rachel Kimsey.
The Exorcist
This is a relatively new horror series as it made its debut on Fox in September 2016. Stars of the hit series include Alfonso Herrera, Ben Daniels, Brianne Howey, Hannah Kasulka and Geena Davies. It is part of the Exorcist franchise and is a sequel to The Exorcist movie from 1973.
Teen Titans Go!
DC Comics originally published this comic book series. In 2003, Teen Titans was launched as a television series and this was based on the Teen Titans comic of the 1980s. Teen Titans Go! Is a spin-off series with unrelated story lines. It was launched on the Cartoon Network in 2013.
Van Helsing
Van Helsing is based on the novel series 'Helsing'. It premiered on Netflix on December 23, 2016. Originally it was planned to launch on Super Channel in Canada. Ongoing bankruptcy issues prevented this from happening. The lead role in the fantasy horror series is played by Kelly Overton.
Inhumans
The Inhumans TV series is yet to launch but it is already causing a stir amongst comic book fans who are waiting in anticipation for its debut. It is based on the Inhumans characters of Marvel Comics. It is planned that the series will debut on IMAX screens from the beginning of September 2017, before it is launched later in the month on ABC.
Colony
This science-fiction drama was originally launched on USA Network's website in December 2015 and was then broadcast on USA Network for the first time in January 2016. Stars of this series include Josh Holloway, Peter Jacobson, Sarah Wayne Callies, and Amanda Righetti. It was created by Carlton Cuse and Ryan J. Condal.
Timeless
Timeless is a science-fiction drama that is based on time travel that follows the adventures of the characters as they attempt to change the course of American history. The series was created by Eric Kripke and Shawn Ryan. Starring in this series is Abigail Spencer, Matt Lantner, Paterson Joseph and Malcolm Barrett. It premiered on NBC on October 3, 2016. NBC then canceled the show in May 2017, before reinstating it for another series just three days later after talks with Sony Pictures Television. The next season is planned for 2018.