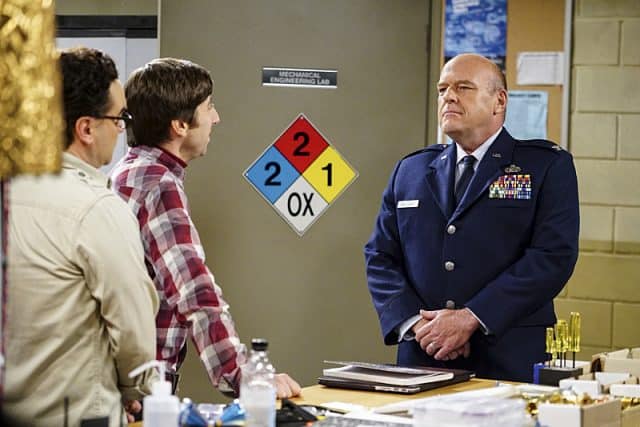 We're past the premiere and now the fall TV season is in full swing, meaning lots and lots of new episodes of The Big Bang Theory. It's honestly impressive that they can maintain this level of quality after 10 seasons. I'm still laughing and enjoying nearly every episode. Though, granted, it's pretty easy to make me laugh.
This week on The Big Bang Theory: Howard, Leonard, and Sheldon meet with Colonel Richard Williams (Guest Star Dean Norris) regarding using the navigation system for military use. Sheldon over promises how long the project will take. Bernadette is upset that people at work found out she's pregnant, and even more upset when she finds out Penny let it slip.
I'm intrigued by this invention story. I think it's really interesting, and has the potential to be entertaining regardless of whether they actually complete the project in time or not. Dean Norris was a great choice to be their military liaison, and I hope we continue to see him. I was, however, disappointed that he's an engineer and not a geologist (Marie! They're MINERALS!).
The Bernadette story is far more poignant and relevant than the other. Though both stories are pretty deeply rooted in political issues, Bernadette's is much more obvious about it. She doesn't want to lose an opportunity at work because she's pregnant. This is a real issue that women face all the time. The duality of having a family and a career has been difficult for some people to achieve, and they've worked hard in their careers. As a straight, white male, I really have no idea about these things, except that I always try to go by what people can handle at work, and not their life situation. Either way, this was a good, well-told story that made a relevant point.
As always, here are some of my favorite quotes/moments from the episode:
"If you're a brown guy whose name has a lot of syllables in it, terrifying!"- Raj
"He won't take any pills that aren't chewable and not shaped like a Flinstone."- Bernadette
"Fine, I'll put it on Facebook like a caveman."- Raj
"My cousin does work in a call center."- Raj
"I'm just here because there's a bumblebee in my office."- Raj again
"And now I'm just balls out terrified to tell you."- Penny
"Let me put your mind at ease. What we use it for is none of your business."- Col. Williams
"I'm really regretting that I got you a happy meal."- Amy
"What kind of lunatic goes to McDonald's and gets fruit?"- Bernadette, asking the same question I've been wondering for ages.
For someone in the background, Raj nailed all of his one liners and bits in this episode. That's one of the great things about this cast, is that even when seldom used, they can all carry a story. Usually, it's Sheldon's name we see repeatedly, but the whole "Sheldon can't talk" rule pushed the others to the forefront.
It wasn't a particularly groundbreaking episode, but it was funny and enjoyable. It also kicked off a few stories that are bound to be more interesting as the year goes on.
What did you guys think? Did you enjoy the episode? Let us know in the comments!
The Big Bang Theory airs Mondays at 8/7c on CBS
The Big Bang Theory Season 10 Episode 2 Review; "The Military Miniaturization"
Summary
Howard, Sheldon, and Leonard meet with the military about the navigation system, on this week's funny episode of The Big Bang Theory