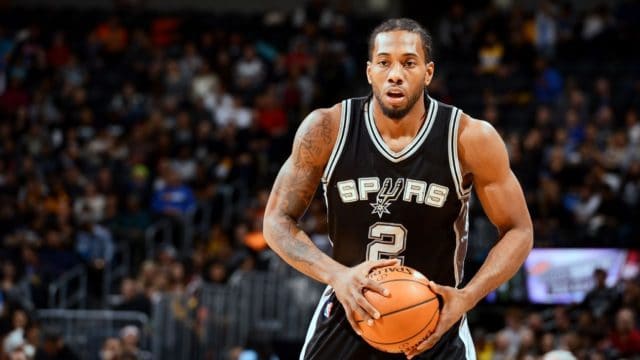 In this day and age in sports it's extremely rare to see a superstar caliber player go under the radar in the way Kawhi Leonard has. Everyone in the league as well as any basketball expert will tell you that he's one of the best players in the league. Charles Barkley called him THE best player in the league last year. But to this day we still don't hear his name. Why is that? It's because he's easily the most unassuming superstar athlete in the world today. And quite possibly of all time.
This was written by Alan Williams on Teammates Matter and if you take anything out of it, learn from a guy like Kawhi. This isn't just about sports, this is about life in general.
As a fan, it seems like it can't get any better than watching a group of unselfish teammates — a top 3 player in the world included — move the ball better than any team in the NBA. At one point, I read a stat where the Spurs passed the ball twice as much as any other team during one of their recent playoff runs.
The All Star game last night made me think about why Kawhi Leonard is so good beyond his physical ability. I'm intrigued how he doesn't seem to waste energy on the court focusing on the wrong things:
He doesn't argue with refs.
He doesn't over communicate (unless calling out a screen or protecting the weak side on defense)
He rarely changes changes facial expressions.
He consistently does "the next right thing" at both ends of the floor.
He senses when to make the extra pass…
He knows when to take over the game.
Charles Barkley said last year that Kawhi was the best player in the League. Maybe fans everywhere would recognize this to be true if Kawhi would just draw more attention to himself. Maybe he should yell at Pop when he comes off the court?…or wear sunglasses at his press conferences?….What if he turned up missing and didn't tell anyone?…What if he intentionally tried to average 35 points a game just because he can?
For the betterment of the Spurs, he doesn't do any of these things. Thank you Kawhi.
2011 NBA Draft selections.
1. Kyrie Irving
2. Derrick Williams
3. Enes Kanter
4. Tristan Thompson
5. Jonas Valanciunas
6. Jan Vesely
7. Bismack Biyombo
8. Brandon Knight
9. Kemba Walker
10. Jimmer Fredette
11. Klay Thompson
12. Alec Burks
13. Markieff Morris
14. Marcus Morris
15. Kawhi Leonard
Save