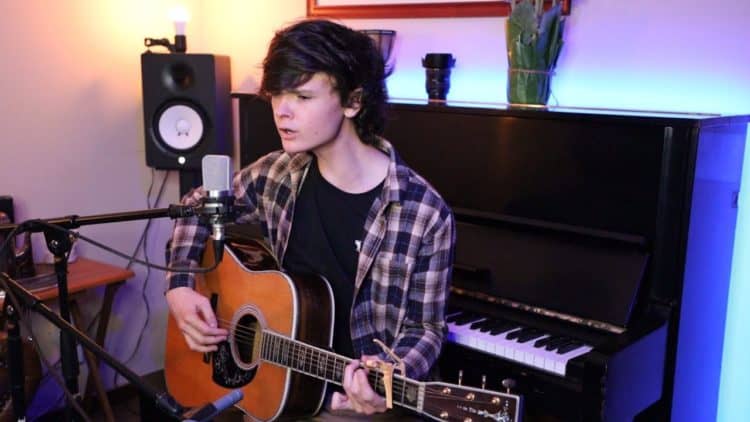 With so many contestants on American Idol, it's impossible to give everyone equal amounts of air time. Unfortunately for Ben Dodson, he is one of the people who viewers haven't gotten to see much of. However, when he did get some screen time during duets week, Ben showed the world exactly why he deserves to be on the show. He and Henry Thompson performed a beautiful cover of "Mercy" by Shawn Mendes that gave the judges no choice but to move each of them to the next round of the competition. After getting a glimpse of what he can do, there are lots of viewers who are hoping to see much more from him. Keep reading to learn 10 things you didn't know about Ben Dodson.
1. He Is From Nashville
Since Ben Dodson's audition didn't air and we haven't seen much of him on the show so far, we haven't gotten a chance to learn much about his background. One thing we have learned, however, is that he is based in Nashville. Although Nashville is considered the country music capital, Ben isn't a country music artist.
2. He Makes Beats
In Ben's brief clip during duet week, we got to see that he also has some guitar skills to match his vocals. That isn't all he can do, though. Apparently, Ben also likes making beats. He has a highlight section on his Instagram profile dedicated to his beats. Whether performing or being behind the scenes, Ben has what it takes to create from all angles.
3. He Has A YouTube Channel
Ben may not be as far along in his career as some of the other contestants on the show, but that doesn't mean that he hasn't been working hard to carve out some space for himself. He has a YouTube channel where he uploads videos of himself singing. His channel only has about 200 subscribers, but his videos have a total of more than 15,000 views.
4. Some Viewers Are Disappointed That He's Gotten So Little Screen Time
American Idol has often been criticized for only focusing on specific contestants in an attempt to sway the audience once live voting begins. There are some viewers who feel like that is what is being done in Ben's case. Several Reddit users have expressed disappointment that he hasn't gotten much air time and feel that he is more than deserving.
5. He Is A High School Student
Ben has the voice of someone who has been singing for decades, so many people will be surprised to know that he's just a teenager. Although we don't know his exact age, he is likely 17 or 18-years-old. According to Ben's LinkedIn profile, he is currently a senior at Nashville School of the Arts.
6. He Is A Private Person
As mentioned earlier, the fact that Ben's audition never aired means that we didn't get to know anything about him. However, Ben doesn't appear to be the kind of person who likes to share his personal life with the public. Although he is active on several social media platforms, all of his content is strictly related to his music.
7. He Is Working On Original Music
In addition to being a talented singer and guitar player, Ben is also a songwriter. He loves telling stories and expressing himself through his lyrics. While it's clear that he has some original music in the works, it doesn't appear that he's actually released anything yet.
8. American Idol Is His First TV Show
Some of the contestants on American Idol are no stranger to being on competition shows. Some of them have already competed on shows like The Voice and America's Got Talent, while others have even been on Idol in the past. Ben, however, hasn't been on any other TV shows and, as far as we can tell, hasn't auditioned for any.
9. He Has A Large Following On TikTok
Social media has become a great way for rising stars to start getting their names out there and build a fan base. Like many others members of Gen Z, Ben has found his stride on TikTok. Ben has over 17,000 followers on TikTok and his time on Idol will likely result in that number growing even more.
10. He Appreciates All Of His Supporters
Pursuing a career in the music industry isn't easy, and it's essentially impossible without people who appreciate what you do. Ben is thankful for all of the people who have shown him love and support throughout his journey and he enjoys connecting with them as much as he can.