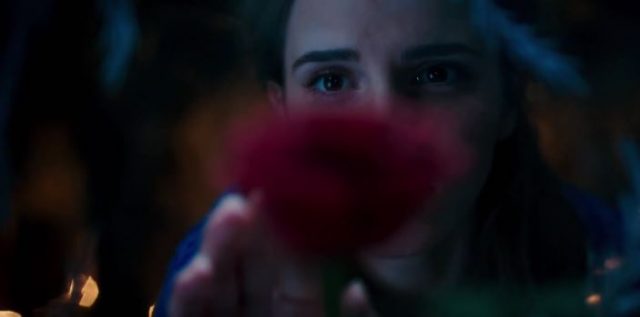 Following the enormous successes that were Disney's live-action versions of Cinderella and, most recently, The Jungle Book, audiences are more excited than ever to see the studio's re-imagining of its classic animated feature Beauty and the Beast next spring. And even though the film's release date is still 10 months away, Disney has released a 90-second teaser trailer for Beauty and the Beast, featuring our first official look at Emma Watson as Belle.
In the trailer below, we're mostly treated to views of the castle, as we go from an outdoor look of The Beast's home to inside the ballroom and many more locations within the castle. Each new room we see helps to set the tone of what we can expect from this new version of the Best Picture-nominated film, before we hear the door creek open and Belle enter.
"Look, a girl!" Lumiere calls out.
"Yes, I can see it's a girl, you fool," Cogsworth responds.
"What if she is the one?" Lumiere asks, before we hear Belle call out "Hello."
Then we see the famous rose. Belle approaches it until she's she's right there in front of it. Her hand reaches out to touch it, as her face is slightly obscured by its pedals, and that's all the footage we get for now, as the next shot in the trailer features the words "Be our guest" and the movie's release date.
In addition to Emma Watson as Belle, Ewan McGregor as Lumiere, and Ian McKellen as Cogsworth, Beauty and the Beast's cast includes Luke Evans as Gaston, Josh Gad as Le Fou, Emma Thompson as Mrs. Potts, Gugu Mbatha-Raw as Plumette, Stanley Tucci as Cadenza, and Dan Stevens as The Beast.
The film hits theaters on March 17, 2017. Check out the teaser trailer below:
What did you think of the first teaser trailer for Beauty and the Beast? Comment below and let us know.
[Photo via YouTube]