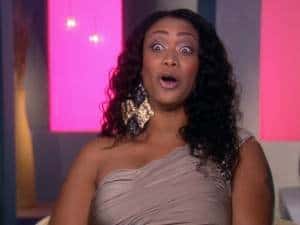 The tides are always turning on Basketball Wives and on this week's episode, Kenya bore the brunt of a karmic tsunami. The aspiring singer had been labeled as the season's weirdo and flip flopper pretty much from the jump, but she's been able to escape the wrath of the circle due to everybody else having bigger fish to fry. There's been countless Jen/Evelyn dust-ups, Kesha's first on-camera reaming, and more awkward tension than you can shake your wig at, so Kenya's mouth (specifically her laughter) have been on the backburner.
Until now.
Kenya has become public enemy #1 in the land of Basketball Wives, thanks to her alleged two-faced nature and recent no-comment-comment about the other girls to a Detroit radio station. And I don't know how I feel about it. Kenya may be a bit of a mess and put me in mind of Meeka Claxton with her overeagerness to become part of the circle, but nobody deserves to be ganged up on. Reality TV or not, having four people come at one person is a little unfair and it shouldn't have went down like that; it's just not fun to watch the rest of the group pile on one person. It becomes less like catty, trashy television and more like bullying from middle aged women. Basketball Wives can be one of the most entertaining reality shows out there when it's clicking and it clicks better the more evenly-matched the fights are, but lately, they've only picked on the new girls or the girls without a strong alliance to protect them.
And Tami has been getting under my skin about this whole thing, more than anybody. Boo, Kenya doesn't owe you (or anybody else on that show) a damn thing, let alone loyalty/sticking up for them when they're being clowned. This isn't a sorority nor is it a street gang; Kenya need not prove her loyalty through a series of tests, mostly because look how she's been treated so far. If I was around a group of people that made fun of me (mean-spiritedly) and acted like this pack of jackals, there's no way in hell I stick up for them when their character is questioned. What have they done to prove they'd be loyal friends? Or the type of friend you want in your life at all? Or, hell, decent people? Tami trying to make Basketball Wives seem like some kumbaya sisterhood of the traveling baby hairs is rich, considering just two episodes ago she read Kesha over something minor.
So it's okay to write somebody off after knowing them for six seconds, but if somebody doesn't jump to your immediate defense, it's wrong? Okay, Tami…
Evelyn was no better, proclaiming that she "likes" Kesha, when it's obvious she's using her to bury Kenya. Once Kenya's properly out of the circle (or off the show), I don't see Evelyn having much use for Kesha. I mean, if you like someone, you don't act like Evelyn did to Kesha at the dinner party and considering how much of a manipulative sociopath I find her to be, I wouldn't put it past Evelyn to take advantage of her like that. It's a temporary alliance born out of mutual dislike for another, so expect the smiles and faux friendly BS to have an expiration date fast approaching. It's disappointing to have Kesha fall into their web of insecurity and gaudy earrings because she seems like a lovely person to be around. I'm all about somebody being assertive and standing their ground, but this was less that and more "kickin' it with the cool girls to avoid being picked on". I consider myself to be a pretty chill person, for the most part, but I have no idea how Kesha forgave Evelyn and Tami for how disrespectful and childish they were at dinner. It's early in their friendship, so maybe Kesha's looking at this as a clean slate; I just think she's setting herself up to be hurt.
Basketball Wives moved targets from one new girl to another, but it still felt a little too predictable and expected. The circle was promised to be shaken up this season, but aside from Evelyn and Jennifer falling out, it's pretty much business as usual. In reality TV, numbers are the key to power and for the time being, the circle eclipses all around it.
Thoughts, Quotes, & Observations:
-"Listen, like, surround me with calmness, please."
-"I hope no one has a birthday soon."
-"All I heard was clutch purse."
-"Her face irks me."
-Is it just me or is "keep it 100" code for "I want to be a raging b and not have to suffer any consequences for it"?
-Kenya throws shade at damn near everybody in a Juicy Magazine interview.
-Here are Royce's and Tami's thoughts on last week's episode.
-Kesha talk dance, gossip, and being the new girl.
-Tionna Smalls, that nobody "matchmaker" from What Chili Wants, thinks Basketball Wives lowers your IQ and turns children into obsessive angry whores.
-Next week on Basketball Wives: Kenya feels jumped on but owns up to the "loose" comment. Evelyn, in turn, responds the only way she knows how.
Tell us what's wrong with this post? How could we improve it? :)
Let us improve this post!