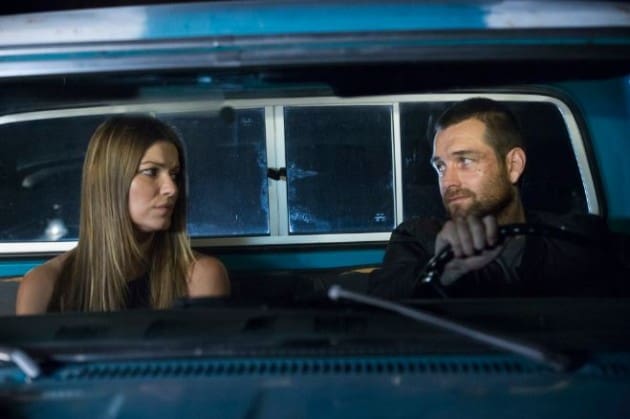 After last week's doozy of an hour, Banshee lets off the gas a little bit in "Real Life Is The Nightmare," while characters contemplate the state of their lives – or more importantly, how untenable their current situations may be. For the first time this season, "Real Life Is The Nightmare" slows down on the head-pounding (save for one wonderfully grandiose fight between Hood and Proctor), instead examining the damage done in the near-year it's been since Hood showed up in Banshee, a contemplative hour that reflects just how much Banshee's grown since its early days.
"Real Life Is The Nightmare" works first and foremost because of Antony Starr, whose performance as a dejected, frustrated Hood in this episode conveys just how much the character (and performance) have grown over the course of two-plus seasons. There's real pathos in Hood's assumed last lap around Banshee, as he struggles to find ways to say goodbye to the women he cares about so much, he's willing to risk federal prison on a daily basis to keep them protected. With Siobahn in the know and Hood not willing to wait and consider his options, it leads him on a sad path of reflection throughout the hour, especially when he and Ana share their first extended scene together this season, after he picks her up when her motorcycle joyride ends abruptly.
Hood's scene with the three women in his life is the farthest the veil's been pulled back on who Hood really is; emotionally, that is. We see him trying to be strong when he says goodbye to Carrie, holding back tears when he watched Deva walk away for what he thinks is the last time. While Deva still remains a bit of a pain in the neck as a character (this week, she's stealing video games to make a neat parallel with her mother's own reckless tendencies), her connection with Hood is something the show's been growing since their first real interaction way back in the show's second episode – and when she tells him that she doesn't actually want him to leave, watching him try to contain his emotional reaction is utterly heartbreaking, and speaks to the depth carefully constructed by the Banshee writers over the last two years. Like everything on this show, Hood's emotions aren't extremely deep, but he wears those loyalties and motivations on his sleeve, with that heightened sense of adrenaline and dedication that comes with Hood putting his fists into someone.
When "Real Life Is The Nightmare" isn't focused on Hood, it's focused squarely on the feminine energy in the town of Banshee, which makes for a slightly muted, no-less-entertaining hour of television. Keeping consistent with the rest of the season, "Real Life" features characters trying to un-stick themselves from situations; Carrie from waitress life, Deva trying to be a good sister (and again, a pain), and even Brock's ex-wife insisting that her job is to protect life – even as she walks in the halls of the devil himself, with suggestions in this episode that there's a spark between her and Kai, which could make things with Brock very interesting later this season (not to mention what will happen to his 'therapy' sessions… talk about a buzzkill).
Of course, "Real Life" is at its best on Ana/Carrie's road trip, which sees her flirting with a biker, then beating the crap out of him when he tries to get handsy. She runs away from the cops on a stolen motorcycle, and eventually has to call Hood to come pick her up. The story is simple, but the ideas underneath the surface are anything but. Carrie's motorcycle ride is Banshee's equivalent of Louie C.K.'s motorcycle ride back in the season three premiere of Louie: it's a sign of identity crisis, a visual device that suggests Ana is fiending for an adrenaline fix, something she can only get running with Job and Hood (by the way, Job and Sugar's little recon mission? Absolutely hilarious, right down to the image of Sugar's doctored ID picture, complete with afro), and the only time she still feels like she's maintaining some part of the woman she once was.
In the face of two deaths, many characters find themselves running to adopt new identities in "Real Life Is The Nightmare" (hence the title). Stuck in place, characters are fighting against the inertia of a (relatively) quiet Banshee, a problem easily solved by Chayton's revenge attack on the precinct, lighting it up with bullets in an episode-ending scene that neatly homages the way season one's penultimate episode ended. For some, this means pushing forward: Gordon FINALLY stops being a waste of life this episode, while Ana and Rebecca move one step closer to becoming the women they'd like to be (or at least for Ana, reclaiming the identity Rebecca is currently discovering, if only for a minute). For others, this means fighting back against everything that is, and once was, and it's that inner turmoil that frames the climatic Proctor/Hood fight (which is just as good as last week's showstopping fight, minus the brutal ending), a conflict between two men who want to beat their own memories out of them (especially as Kai faces the impending death of his mother, and Hood the impending death of his secret).
It also informs the episode as a whole, which may not be the season's most explosive (I'm sure in retrospect, it will feel like the least; only three people get punched in this episode! Only three!), but stands as one of its most poignant, anchored by the haunting images of Hood spinning his badge, or the awesome shots of Ana enjoying a rare smile while flying down the highway on a stolen motorcycle. Banshee is a show known for its fists and viscera; episodes like "Real Life" remind us that it can also be known for its characters and emotional resonance.
[Photo via Cinemax]