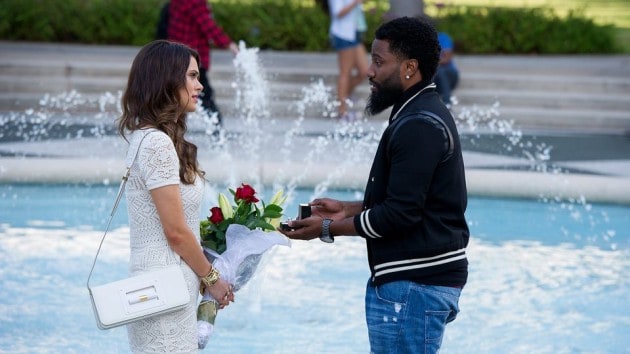 When Ballers first began, it was easy to compare it to another HBO comedy: Entourage. Both series shared many similarities, from the wealth and fame of their main characters to the many cameos that each of them featured. However, there's one other major element that both shows have in common: a lack of consequences.
Fortunately, it appears that Ballers is attempting to change that in this week's episode, "Gaslighting," as Spencer and Joe's jobs are threatened when Anderson discovers what actually happened at the company function they held on his yacht, and Ricky's continued attempts to get Bella back are unsuccessful. In order for the drama on Ballers to carry actual weight, these characters do need to lose things and people that they love and have real, actual concerns outside of whether or not they'll be able to sign a certain client or get the specific jersey number that they want. If Spencer and Joe could really be out of jobs soon (and not just magically start up their own firm, as Joe suggests), that would inject both of their stories with some more urgency; similarly, a Ricky that is forced to move on from Bella and actually learn from his mistakes is a much more interesting version of Ricky than the one who simply gets her back thanks to some grand gesture.
And, really, interesting is something all of Ballers' characters need to be more of right now. Aside from Spencer, who remains a likable and compelling lead, thanks in large part to Dwayne Johnson's performance, the freshman series has a shortage of people that don't feel like, well, actual people. Ricky is a caricature, as is Joe for the most part, and Charles' journey back to the NFL was derailed for the past couple of weeks for nonsensical hijinks, all of which did not paint him in a particularly flattering light. Thankfully, his story finally picked up momentum again this week, as he inquires about a possible position on the Dolphins.
For most of its first season, Ballers has been utilizing many of the superficial elements that made Entourage such an easy but sometimes exhausting watch. "Gaslighting" hints that the series could be going into a new direction, one with real, substantial stakes that could propel many of the characters' stories forward as we head into the final two episodes of Season 1. Here's hoping Ballers doesn't fumble on its way to the end zone.
Other thoughts:
– Excuse the awful sports metaphor in the last sentence, but it was really hard getting through this review without at least one of them.
– The Rock singing "Shake It Off" is the greatest thing Ballers has ever done.
– But Ricky and his friend at the jewelry store was also pretty fun.
– Similar to his relationship with Tracy, Spencer's past with Angie shows another interesting side to him. Funny enough, my favorite scenes on this show are when Spencer's interacting with the recurring characters, not the regulars.
– Can we please have Charles continue to focus on football and not think about cheating on his wife anymore? Thank you, Ballers.
– Thanks to Nick for letting me fill in and give my thoughts on the show this week. He'll be back for the final two episodes of the season.
[Photo via HBO]