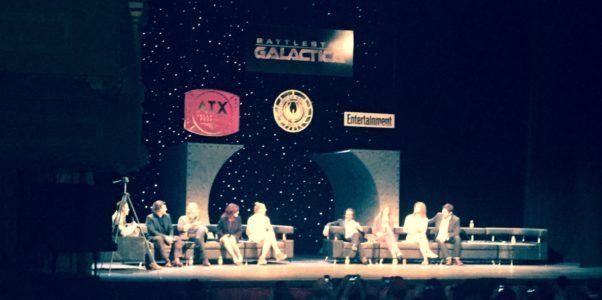 This past weekend Entertainment Weekly and Syfy channel hosted a Battlestar Galactica Reunion at the ATX Television Festival. We have several other pieces up covering a variety of topics from the Festival. This piece will focus on cast stories primarily from James Callis (Baltar), Tricia Helfer (Six), Grace Park (Athena) and Michael Trucco (Anders).
James Callis and Tricia Helfer told the story of their first day shooting on the Pilot.
Ms Helfer
I was wearing this plastic/leather underwear thing made of thin straps that went all around me.
Mr Callis
Part of the scene was I had to disrobe her …and then there were the intimate moments.
Ms Helfer
It was easy for me to get in and out of that underwear.
Mr Callis
And I was highly selfconscious. It was only me and Trish on camera
Ms Helfer
But we were surrounded by dozens of crew with cameras and mics and their assistants. We were both selfconscious.
Mr Callis
I was going very slowly with removing all those pleather straps.
Ms Helfer
So, finally, I said, 'James, there's a basement, under the set where the bedroom is, why don't we go down there and kiss?
Mr Callis
And we did.
[Jeers and cheers from the audience about teenaged geeks kissing in basements]
Grace Park told a story about filming a death scene for one version of her character.
Ms Park
"She had just done something terrible and [sic] had to shoot her. I knew about swimming through the stars and I knew that I would be back playing another version of her very soon. But she didn't know any of that. Or she did but she wasn't sure. She'd never been through it and didn't know anyone who had. So, I had to play it as dying for good, with all the sadness that goes along with that."
Michael Turcco told a story about inventing the game pyramid.
Mr Trucco
So when I got cast, they told me I was there for two episodes. Maybe three. And Katee (Starbuck) and I filmed the pyramid scene at the beginning. They told me I was just there for three episodes — five tops — to be a small romantic obstacle to Katee (Starbuck) and Apollo (Jamie Bamber). And then it was seven, ten, the rest of the season and no more than the first four episodes of the next season. But I ended up, my character ended up becoming one of the most important members of the cast by the end.
Ms Sackhoff
But pyramid. Tell them about pyramid. The assistant director handed us a ball and said, 'Just shoot around and we'll cut it together.'
Mr Trucco
So we had small volleyball/basketball and this tiny dented trashcan that we scored in.
Ms Sackhoff
Mike and I and a stunt coordinator just worked it out.
Mr Trucco
She and I — we made up the rules and the moves.
Ms Sackhoff
There should be lots of touching. Make up a reason for touching.
Mr Trucco
So we made up the rules and the moves and the scoring. And the touching. Just shoot around they told us. Because you're playing this game and falling in love.
Questions from the Audience:
A reporter from a website in France asked Mr Moore about the music.
Mr Moore answered, "So, Richard Gibbs set the template for music in the pilot. And he was assisted by Bear McCreary. Richard couldn't come back for the series and we asked him who he would recommend and he said Bear. So, we brought Bear in the do the compose the music for the series. In the first few episodes we had a meeting, Bear and I and other producers to review the music. Bear had temp tracks in for the score, popular music. other music from other tv shows and films, classical pieces. And he would play for us some of what he'd written and we'd give him guidance. But after a few episodes, it was clear that Bear knew what we wanted and we just let him go and do it [write the music]. We had meetings with him for big things like bringing in 'Pegasus' and 'All Along the Watchtower.' But that was it.
A fan asked Ms Sackhoff about Starbuck's love interests. "Who was Starbuck's true love: Zak? Lee? Sam?"
Ms Sackhoff answered, "Well, when I was on the series my answer might have been different, but I was very young then. I was twenty-one when I was auditioning for the role, and I kind of grew up with Starbuck, and I have learned and grown since then. So, here's how I answer that now. I don't believe that you have one love of your life and that's it. You can love someone and grow with them. And when it's over you can find someone else and love them just as much. You love someone and grow and change and if they can't grow with you then then you have to send them on their way. Isn't that what love is, growing with someone?"
Save