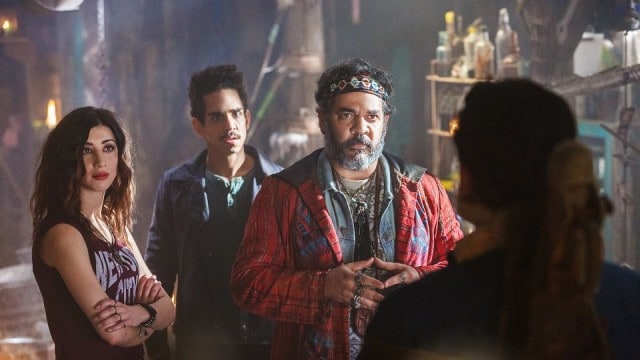 Ash vs. Evil Dead is coming off of its weakest episode yet as we reach the halfway point of the season, so let's take a look and see if things got back to normal with this week's episode, "The Host."
The episode opens as the gang ties up Ash after the demon possessing Kelly tricks them into thinking that it actually possessed Ash, a demon who is described by the brujo as a manipulator (something that is very obvious to us after seeing him in three episodes now). The brujo plans to essentially cut the demon out of Ash, which will really end up giving the demon possession of Ash's soul. That seems like a very convoluted explanation, but the episode sets up this premise in a quick and fun way that explains everything well. One of the best things that Ash vs. Evil Dead has had going for it all season is that it very easily sets up every episode in the beginning, and even a casual viewer shouldn't at all be in the dark about what's going on. "The Host" does this even better than usual considering that it has to effectively re-state four world-building episodes before it can jump into the action.
Since the main subject of "The Host" is demon expulsion, a large chunk of the episode draws a lot of inspiration from exorcism films like The Exorcist while twisting that inspiration around the comedy-horror that the Evil Dead franchise is known for. It also allows for a wonderful performance from Dana DeLorenzo as she is forced to play both normal-Kelly and possessed-Kelly. Even though this is, first and foremost, a comedy series, DeLorenzo's performance manages to feel original and never falls into that of parody. This cast has proven to be one of the most impressive on television this season, and "The Host" continues to show their strengths in new ways.
I have to mention, once again, that the visual difference between the show's practical effects and CG work is striking, and I really hope that a better balance is found soon. While some of these elements are much easier to create with a computer than on a set, they need to either start blending them better or really reconsider whether or not there's a better way of presenting them to the audience.
Ash vs. Evil Dead continues feeling like a comic book series, as I mentioned last week, and that's such a great strength for this show. Each episode doesn't have to worry about massive story progression (even though the story does progress nicely) because the serialized arc is arranged into a very episodic structure that allows for incredibly quick pacing that never at all makes you feel like things need to slow down and take a breath.
As I had hoped, "The Host" got back to the greatness that this series showed in its first few episodes before taking an unfortunate pause last week. The comedy hit as well as ever, the action was very fun to watch, and the brujo's methods of demon removal that he used felt completely appropriate to the universe that's been built. I can't wait to see the next half of this season.
What did you think of "The Host?" Where do you think that this story is heading? Let us know your thoughts in the comments down below!
[Photo via Starz]