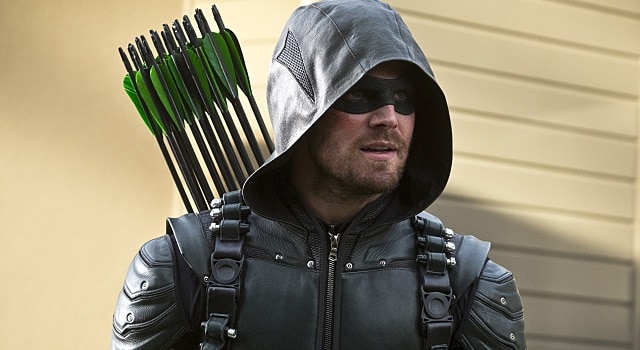 Arrow has had a long and Darhk (pun intended) season and this week's penultimate episode before the season finale made sure to remind us of that as Oliver and Diggle goes to rescue Thea while Felicity's parents are brought together for the first time in years and Damien suffers a huge loss.
Here's something that I haven't said much this season: the flashbacks was actually interesting and compelling this week! Now to be fair, that's almost a must because this is the last episode before the finale so obviously they were saving the best for the last weeks. On the other hand, given that most of the flashbacks focus this season has been lackluster, it's a bummer that we had to wait this long. Taiana getting corrupted by the idol was something I never saw coming at the start of the second half of the season. Although can we all agree that this was a foreshadowing to Taiana's death next week? While I have never really been bothered by Taiana as a character, I have been questioning what her character was supposed to accomplish for Oliver's character journey, unless next week is when we will be learning about it. It will be intriguing to see how Reiter gets defeated, whether she does it or if it is by Oliver.
While I've had my issues with Felicity's arc this season, this is going to sound weird coming from me, but I dug the reunion between the Smoak parents. Seeing Noah and Donna just clashing was fun and actually something that I had wanted to see, just to see what it would be like. The one thing that was a big "huh" moment was Donna's "big dark secret" that had been teased to be something really big in recent interviews. So what was she keeping from Felicity this whole time? That Noah never left her and Felicity when she was a kid as Donna was the one that left him. I get why she felt bad about it, but really, this was the dark secret? I thought it was going to be something so shattering that it would damage her relationship with Felicity. Again, I get why she did it, but she was being way too harsh on herself.
Even though it hasn't happened since Season 3, seeing Thea being mind-controlled again by Malcolm was bothersome. There must be way more interesting storylines that they can give to Thea than what she has had this season and this was just another sting. For Season 5, let's just hope that Speedy doesn't get brain-controlled for a third time. Also, it is beyond me how Malcolm still considers himself a good father for using methods like that. Luckily that phase didn't last for long as Oliver brought her back because they had a whole different problem to deal with: Anarchy who actually served a good role! He ends up kidnapping Ruvé and the daughter as he is messing with Damien who quite frankly deserves every bit of it.
I honestly thought he would kill both of them, but luckily Team Arrow comes to the rescue and manages to save the kid. Ruvé however isn't as lucky though which, quite honestly, didn't bother me — after all, she was trying to screw Laurel big time with that offer so I guess karma did its role here. The big fight versus Anarchy was impressive because of the camera work and just the intensity of it all. However the explosions have taken its damage on several parts of the city. Like Quentin said last season: the city's under attack? Must be May! Speaking of being under attack, Damien crashes Felicity's home as he declares that he is bringing hell to them. Now there is one thing that just doesn't add up: if Damien is so determined to kill these people that keep getting in his way over and over, why doesn't he just…kill them?
I'm not saying that I'm wishing for it to happen, but it just feels silly and slightly convenient that each time that he gets in a room with any of these characters, he keeps talking a big game, but not actually playing it. It just weakens him as a villain and also lowers the stakes because he could have snapped the life out of Felicity, Curtis and Donna in a heartbeat, but yet he doesn't. I know this is nitpicking, but unless there is actually something there that can stop him in that moment, he should be going through with what he wants to do. Consistency, Damien, look it up! However that cliffhanger does set up what looks to be an intense finale next week. Overall, "Lost in the Flood" was an enjoyable episode with the Smoak parents bantering as well as Damien losing something/someone for once and the flashbacks were actually pretty solid to follow.
Don't miss the Season 4 Finale of CW's Arrow titled "Schism" airing next Wednesday, May 25th at 8/7c!
[Photo: The CW]
Summary
Green Arrow and Spartan goes to rescue Thea while the Smoak parents come face to face for the first time in years in this week's Arrow.