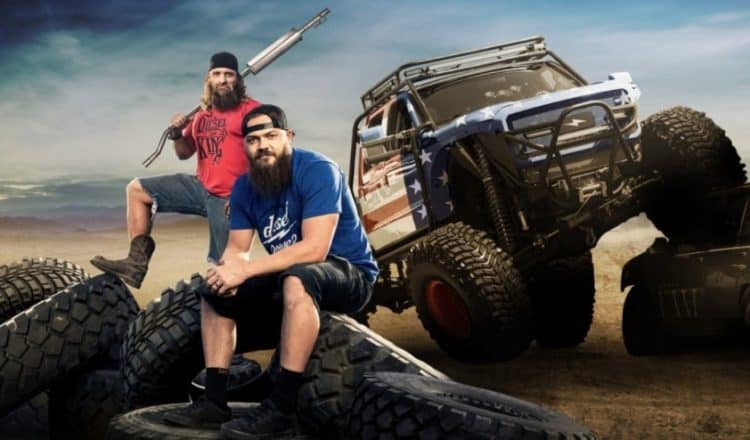 Car lovers couldn't help but to be excited when the Discover Channel premiered the show Diesel Brothers in 2016. The show follows the Diesel brothers as they fix up and customize pick up trucks. Each episode, the brothers get the chance to flex their impressive talent. Some of the results are so impressive that it seems almost impossible for an old truck to be transformed into something so beautiful. Anyone who loves a good makeover/renovation story would definitely appreciate all of the work and creativity that goes into fixing up the trucks on the show.
While the trucks are the main attraction, the Diesel brothers themselves are the key component to the show's success. But despite the title of the show, some have wondered whether or not the Diesel brothers are actually related. Many feel it would be very cool if the show focused on an actual family business, while others wouldn't be surprised if that wasn't actually the case. So, are the Diesel brothers actually brothers? Continue reading to find out.
Who Are The Diesel Brothers?
The Diesel Brothers consists of David "Heavy D" Sparks and David "Diesel Dave" Kiley. As you may have been able to guess by the last names, these two aren't actually blood brothers. The fact that they look a little similar is merely a coincidence. Even though they aren't actually brothers, they are best friends who do share a brotherly bond even when the cameras aren't rolling.
Both Heavy D and Diesel Dave live in Utah where grew up in the Mormon church. They actually met at a church event. Ironically, the event was meant for singles who were looking for dates. Even though neither of them found a potential bae, they were able to form a beautiful friendship. Heavy D says, "Kind of weird. It's where you go to find your future wife or life partner. Definitely found my life partner; wasn't expecting them to have a beard".
The two shared a love for cars and trucks and hit it off instantly, and they eventually began to bounce business ideas off of each other. They came up with an idea they called DieselSellerz which was meant to be an online hub for truck lovers. Heavy D and Diesel Dave began using social media to promote their business. They started sharing funny videos and pranks and eventually gained popularity across the internet. Neither one of them could have ever imagined that what started as a simple idea would eventually lead to their very own show. There aren't many people who can say they get to make money doing something they love with their best friend. Fortunately for the Diesel Brothers, they're among the group of people who can.
Do They Really Give Trucks Away?
Although reality TV has become very popular within the last decade, there is still lots of skepticism surrounding it. At this point, we all know that we can trust that everything we've being shown on reality TV is actually real. This has resulted in some speculation around The Diesel Brothers' giveaways.
One of the things that has always set the Diesel Brothers apart is the awesome giveaways they do. The trucks they remodel on the show are given away to lucky winner who can enter the contest through their website or by mail. And let's be real, who wouldn't love a free car? But are these trucks really given away for free, or is this just a marketing scam to get people interested in the show? The good news is the answer is yes. The trucks really are given to viewers at no cost. Although their website mentions that no purchase is necessary to enter the giveaway, others have suggested that purchasing parts from the Diesel Brothers is a must if you want to be entered to win.
There's More To The Brothers Than Just Diesel
Working on trucks is a huge part of both of the Diesel brother's lives, but that isn't the only thing they're focused on. They are both family men who love spending as much time as they can with their loved ones. Both men are happily married and have children. Diesel Dave and his wife, Susan, have two adorable children. Heavy D and his wife, Ashley, have three children. When they aren't busy with work, they love to go on family trips and spend time enjoying the outdoors with those closest to them. Of course, their faith also remains an important part of both of their lives.
Tell us what's wrong with this post? How could we improve it? :)
Let us improve this post!