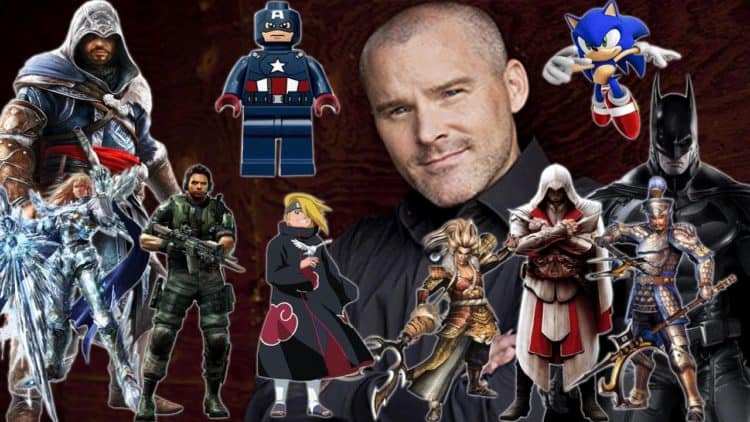 It's amazing but not too surprising that when reading a bio on a guy like Roger Craig Smith, or any other voice actor, that their information is somewhat less than you might expect. But then again a lot of them seem to have a fairly simple existence outside of their on screen personas and tend to not be given as much back story as regular actors. Roger however started his career as a standup comedian and is also a screenwriter, so it's not accurate to say that he's JUST a voice actor. Since the late 80s hes been giving his voice to many different characters that have managed to entertain a broad spectrum of viewers in animation, films, and video games. His voice might get a little more recognizable the more you hear it, as he usually only changes the pitch and tone of it in order to bring out a new character. His skill at making the characters sound right however is still something that is easy to be impressed by since if you've ever tried to make your voice sound different you might have realized that it does take work to achieve such a skill.
Like a lot of other voice actors he has managed to collect a lot of different voices in his time that have made him successful as well as relevant in the fields he works in since he's been the voice of Sonic the Hedgehog since 2010 and has voiced many other game characters and animated characters that have been considered to be quite popular. He's also voiced such characters as Batman, Ezio Auditore from Assassin's Creed, Siegfried from Soul Calibur, and even Captain America from the Lego series. To say that he's had a few very important and high-profile jobs is kind of selling it short since these kind of voices are the type that need to be done right in order to impress the fans and allow them to really enjoy the game. Of course some fans don't care if their video game characters talk or not and disregard it, but the right voice in a game can still provide a needed balance with the character that might otherwise be lacking if it wasn't there.
It's easy to say that the voices in games and animated movies don't matter as much but if they were taken away, if the truly talented individuals no longer wanted to do it or were told that they were being replaced, it seems like it would be anarchy in the studio. Does anyone remember the old voice actors that filled in and did the voices of so many animated characters decades ago? There wasn't a lot of them that were that bad, but some of them were simply horrible. Those that are in the business today are those that have had some training or at least have the desire to learn the voices and the business in a way that makes them so much better than just slipping someone into the studio for a low contract to voice a few lines and then leave. It's also better than having to pick up a high-profile individual that's used to making millions per picture and asking them to do it for a moderate fee instead.
Voice actors do make what amounts to regular pay for skilled labor since they tend to pull down what the average person might in a year unless they're high demand and more than a little skilled. They do get paid by the job so it's not as though they have a regular gig that they go to unless they're part of a series. This being said it's a hope that more people realize that while they are actors in the same sense as live actors they don't get paid nearly as much and tend to do this job more out for the love of it than the paycheck a lot of times. One perk of the job however that a lot of voice actors seem to agree with is that it's fun, it's engaging, and it makes people smile to hear their favorite characters being able to converse within the game. Remember the old video games from back in the 70s and 80s? No one talked, and the few that did make any noise weren't that great of quality. By the 90s the game characters were evolving and speech was becoming a big thing.
Animation and animated films however have always needed voice actors in our time and only the best ever seem to make such movies and shows come to life in a big way. Roger is one of those that blazes the trail and makes it possible for people to love the characters he voices and it's a great thing that he and others do in order to entertain the fans.