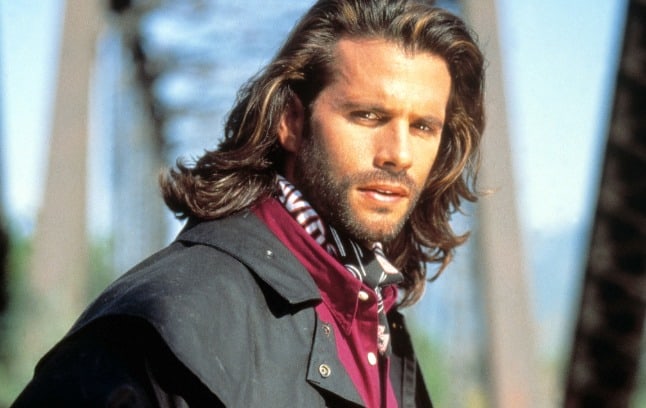 There are some actors you can't help wondering what happened to when you finally do remember them due to an appearance or a movie that pops into mind. Lorenzo Lamas was one of those guys that back in the 80s and 90s seemed to have a career that was going places. He had the look, he had the attitude, but for some reason he just didn't have the necessary link between those two traits and the ability to make great movies. Some might argue, but the truth of it is that Lamas really didn't break into the top spot all that well during his career. He's made a lot of movies to be sure but a lot of them aren't anything that would be remembered save by hardcore fans that have followed his career for the last few decades. The guy has done a lot, and he's still active, but that's kind of hard to believe since he doesn't get a whole lot of action on the kind of movies that are widely broadcast or hyped in any real way.
His love of acting took hold at age 5.
Lamas got his first TV role in 1976 after studying acting in Tony Barr's Film Actors Workshop. His career obviously didn't take off right away but he'd gotten his start and was willing to go the distance to see how he could do. By 1978 he'd secured a non-speaking role in Grease and had even dyed his hair blonde to go with the look of the film. He had a lot of guest roles early on in his career on shows such as Switch, Dear Detective, Fantasy Island, The Love Boat, and a few others. In 1980 he managed to land a role on the show The Vintage Years. The pilot had to be retooled and was eventually brought back as a prime time drama called Falcon Crest. Apparently he had to audition twice for this role and beat out five other willing actors to get the part. For the most part he was a guy that people got along with and managed to work just fine with. He even got nominated for a Golden Globe award for his work on Falcon Crest, and two Soap Opera Digest awards. And to top that off he was the only actor on the show to make it into every episode.
Eventually low-budget films became his thing.
He was nominated for a Razzie in 1984 for his work on the film Body Rock, a movie he even performed a song for on the soundtrack. The song was actually received better than his performance as it cracked the Billboard Hot 100. By the 90s he was making a name for himself in the movie industry as an action-hero, showing off his martial arts skills and starring in a long series of low-budget films that never really went anywhere but kept him working all the same. His work did manage to become widespread enough that people knew of him and in many cases liked what he did, but on the Hollywood scale he stayed pretty much at the low end for a long time and has been there for quite a while. His career has gone up and down however, as he's never fully gone away but has remained on the radar now and again as he continues to practice his craft.
He's still around, but not in the same capacity that he was.
Instead of the stage or the screen, big or small, Lamas is at this point flying helicopters, ferrying people around on day trips. In 2016 he was taking people from the Grand Canyon to Los Angeles, enjoying a rather quieter life than usual as he gets to fly on a regular basis. If you go by his Twitter account he's currently flying as a tour pilot for HeliNY in New York City. According to his filmography he's still active and can be seen on TV every now and then, but it would seem that he's taken his leave of the acting life for the most part. It's kind of hard for a lot of people to accept since in the past Lamas was considered one of the hottest rising stars in the industry. How his career went off the rails is kind of hard to imagine and explain, but it's something that just kept moving along at a steady clip until it seemed like he disappeared.
There were of course hints and suggestions that he might come back when he started showing up on TV shows like Celebrity Apprentice and other such programs, but it never really happened as the industry kind of moved on without him. It's happened to many stars from the 80s and 90s, and only a handful have ever made a comeback or had anything else to fall back on.
Tell us what's wrong with this post? How could we improve it? :)
Let us improve this post!