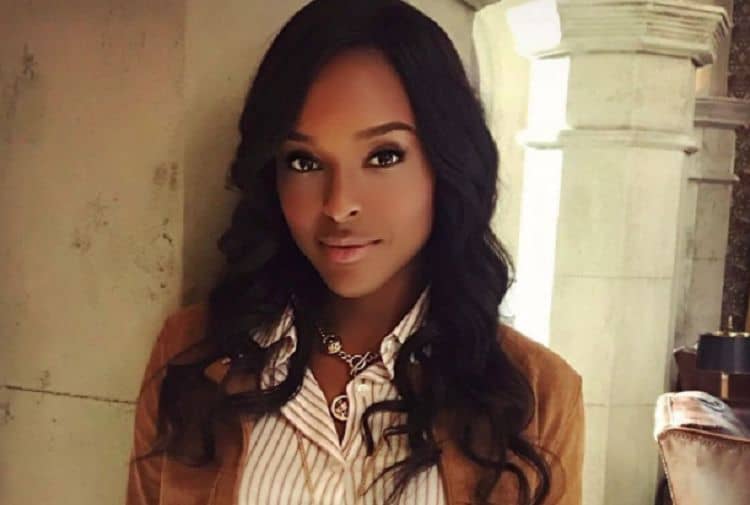 There are some actors who enter the entertainment industry relatively quietly, but Antoinette Robinson has been making a buzz since her first on-screen appearance about a decade ago. After getting her first major opportunity in the TV series Hart of Dixie, Antoinette scored another big break when she was cast in the Tyler Perry series The Haves and the Have Nots. She is perhaps best known, however, for her role in the Netflix series Dear White People. As the show gets ready to enter its fourth and final season, Antoinette is looking forward to one last go-round with her cast mates and to whatever the future has in store for her next. Keep reading to learn 10 things you didn't know about Antoinette Robinson.
1. She Has Jamaican Roots
Antoinette was born and raised in the Bronx, but her family's roots are planted outside of the United States. Based on her Instagram bio we know that she has Jamaican ancestry and she is very proud of her roots. Currently, Antoinette is based in the Los Angeles area.
2. She Has A YouTube Channel
Being on set isn't the only time when Antoinette is in front of the camera. She also likes to create her own content for her YouTube channel. She posts a wide variety of videos that mostly consist of vlogs, tutorials, and Q&As. To date, her channel has gotten more than 144,000 views.
3. She Was Bullied When She Was Younger
These days it may look like Antoinette has it all, but there was a time when people weren't showing her so much love. When Antoinette was younger, there were a lot of girls who tried to tear her down by making fun of her. However, she never let what other people had to say bring her down.
4. She Loves Inspiring Others
Antoinette has worked hard to build a large platform, and she plans to do much more with it than simply entertain people. Overall, Antoinette hopes to use her platform as a way to inspire other people to have the confidence to know they can chase their dreams.
5. She's A Private Person
There is certainly no shortage of celebrities who can't help but share all of the details about their personal lives, but Antoinette doesn't plan on adding to that number. Instead, she appears to be the kind of person who prefers to keep her personal life out of the spotlight as much as possible. Since we've all seen what can happen when celebrities overshare, it's easy to see why she would opt to do things differently.
6. She's A Fashionista
If you thought Antoinette's acting skills were on point, just wait until you see her wardrobe. She has a great sense of style and she loves to show up and shut it down every chance she gets. In addition to being interested in fashion, Antoinette also enjoys hair and makeup.
7. She Loves Traveling
Antoinette has a serious case of wanderlust and she loves spending her free time visiting new places and learning about different cultures. She has been blessed to be able to do lots of traveling over the years. Some of the destinations she's visited include Japan, Australia, Indonesia, and France.
8. She Understands The Importance Of Representation
As a woman of color, Antoinette knows exactly what it's like to watch movies and shows and not really see anyone who looks like you. Now that she's a professional actress, she's happy to be someone who can provide representation for others. During an interview with Nile Girl, she said, "Black women are more than the token stereotypes the mainstream media portrays us to be, and it's beautiful to see some women of color taking control of that particular narrative. Young girls of color need to see articulate, compassionate, intelligent, unapologetically ambitious, vulnerable, multi-dimensional characters depicted on television."
9. She Has Almost 5 Star Feet
Antoinette's acting skills aren't the only thing she's famous for. Apparently, people really love her feet, too. According to an online database of feet called WikiFeet, Antoinette's feet are almost perfect. They currently have more than a four-star rating and the website contains several images of her feet. As her popularity continues to grow, there's no doubt that her feet will become more popular as well.
10. She Likes To Stay Active
When you spend as much time on screen as Antoinette does, it's important to stay camera-ready at all times. Antoinette has made it a point to include exercise into her regular routine and she isn't afraid to get a good sweet in. Don't get it twisted though, she still enjoys a good cookie every once in a while.
Tell us what's wrong with this post? How could we improve it? :)
Let us improve this post!