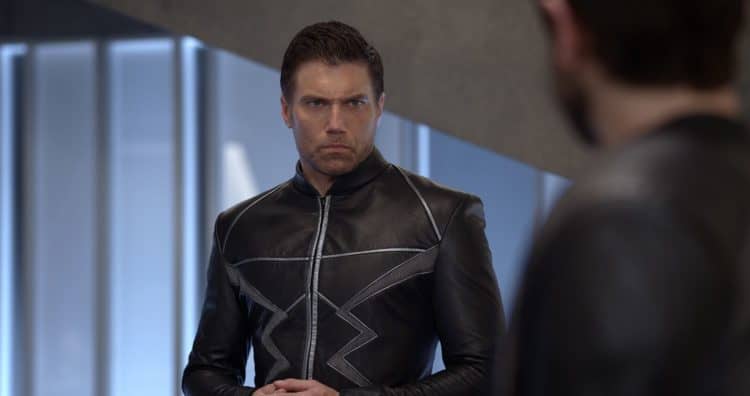 We got Charlie Cox back as Daredevil, and we got Vincent D'Onofrio as Kingpin. But would we ever expect Anson Mount to return as Black Bolt? Now that is seriously unexpected. That is if it happens and that's a very big if. Now why shouldn't he return? Well, it's probably because the ABC Inhumans show from 2017 was a massive dud. In fact, that's putting it lightly. Out of everything Marvel has done in terms of movies and television, Inhumans has got to be its biggest failure. But luckily, Kevin Feige wasn't attached to that fiasco, so no harm done. As a matter of fact, how many people actually watched it? Now let's give credit where credit is due, Inhumans actually had its first episode premiere on IMAX screens in theaters. For a show to do that for the first time and go through that much effort, it had to be good, right? Not at all. I tried watching it and could barely get past the first episode. The only thing that really kept me interested was the talented cast they got to play the royal Inhuman family. I mean, they even got Iwan Rheon to play Maximus, the villainous brother of Black Bolt. And as for Black Bolt himself, the king of Attilan and the leader of the royal family, Marvel casted Anson Mount.
I'll be honest, I only knew Anson Mount before Inhumans because of his role as former Confederate soldier, Cullen Bohannon. That was a good series, and it owes its popularity to the leading man. He was your typical anti-hero protagonist out for revenge against the Union soldier who shot his wife and son, but there were some intriguing layers to him. Despite being a man from the south and fighting for the Confederacy, he was no racist and actually despised slavery. As the series went on, his motives went beyond revenge, the most interesting for me was his relationship with Common's character, Elam Ferguson. The most memorable moment from that series for me was when Cullen was forced to put Elam out of his misery. The acting of Anson Mount was absolutely phenomenal in that scene and after that, I knew I wanted to see more from him. So when Marvel bagged him for the Inhumans series, I had a reason to be excited. Needless to say, he was actually the only good thing about that show. Well, that and his trusty teleporting canine companion, Lockjaw. I waited years to see Marvel's greatest pet in a Marvel movie and that's the best I got. To be fair, he didn't look bad, but that's clearly where most of the moment went. But whenever Anson Mount and Lockjaw appeared on the screen, I had a reason to pay attention.
For all the grief we give the Inhumans series, we have to admire the dedication Anson Mount put towards the role of Black Bolt. Fun fact: the man actually didn't want to use American sign language for Black Bolt. Why? Well, because Black Bolt isn't from Earth. If he's not from Earth, let alone America, then how could he possibly know American sign language? So what was the solution? Anson Mount decided to create his own sign language just for Black Bolt. Just imagine you're playing a unique comic book character that chooses not to speak and you have to convey your emotions not only through facial expressions, but through sign language that doesn't even exist. Okay, that is seriously impressive and Anson Mount deserves respect for that kind of dedication. With that in mind, I'm sure you can imagine he was just as disappointed as we were when Inhumans finally premiered. I can make a list of the many problems that turned Inhumans into a lost cause, but it's no secret that the show ended before it got the chance to take off. After the failure of the show, it looked like the Inhumans were doomed to stay in limbo for a while. Now I believe they can and should enjoy the Marvel Cinematic Universe in the near-future. But if they do, I can't imagine Kevin Feige bringing back the cast from the ABC show, even Anson Mount. Well, it turns out, that might not be the case.
According to a close source for Giant Freakin Robot, Anson Mount will return as Black Bolt. Holy smokes, talk about surprising news. At first, I was willing to dismiss this news, but the fan in me wanted to listen. Based on what Giant Freakin Robot's trusted inside source says, Anson Mount will reprise the role, but they're unsure if he'll play the same version from the ABC series. I think it's safe to assume that the ABC version is something Marvel will like to leave in the deeply buried past. That's okay, because now they have a chance to reboot the character and do him some real justice. When I think about Anson Mount reprising the Black Bolt character, I do think about Charlie Cox and Vincent D'Onofrio. Kevin Feige recognized how much the fans loved their portrayals of Daredevil and Kingpin and I'm sure he shared our appreciation for them. In my eyes, that's greatness recognizing greatness. As I have said before, Kevin Feige had little to nothing to do with the Marvel Netflix shows and their continuity in the MCU has been debated by fans.
But if you've listened to Kevin Feige talk about those shows, it's obvious that he doesn't seem interested in keeping those canon. That's why when we saw Vincent D'Onofrio in the Hawkeye, he was different from the Netflix show. That version of Kingpin seemed more like the near-superhuman Kingpin from the comics. And no, I don't think he's dead after Echo shot him. This Kingpin survived getting hit by a car, so I think a bullet won't end him. The point is, if Anson Mount is returning to Marvel, then I'm sure he'll play a more comic accurate Black Bolt. If that happens, then I'd like to see him in full costume with the mask. And yes, keep the fictional sign language he concocted for the role. If Marvel does want to do a Inhumans movie, then getting back Anson Mount is a start. I do hope there is some fire to this smoke Gian Freakin Robot has started. I still believe the Inhumans should make their proper introduction in the MCU and hopefully we'll get that movie we should have gotten a few years ago. And please, please, please give us Lockjaw again. What are your thoughts, Marvel fans?
Tell us what's wrong with this post? How could we improve it? :)
Let us improve this post!