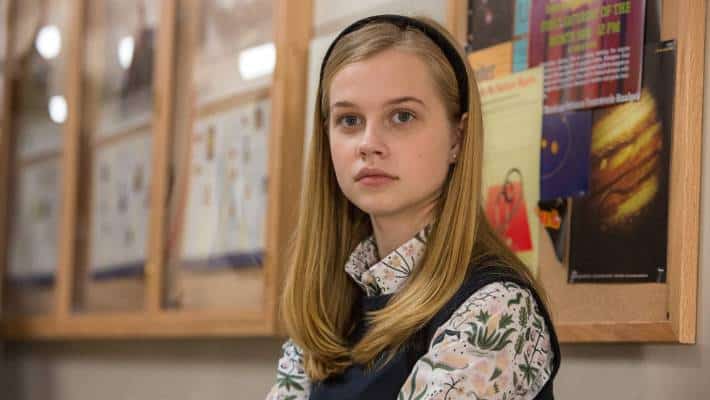 Angourie Rice is someone that you might have to research a bit and then find that a lot of sites will say the same thing and give out the same information. She's been around a while but the depth of information on her so far is more of a biographical nature and to be taken from interviews than anything else considering that she's still pretty young. Her resume at this date is impressive for one that's been in the business for just a little over a decade but there's a lot of room for more to come and it seems that she's going to be touted as one of the biggest stars to come out of Australia as her star begins to increase in potency. It might be premature or it might be a sign of things to come, we won't know until she really gets a head of steam and starts taking lead roles. The best we can do at this moment is wish her luck and hope for the best.
Here are a few things you might not have known about her.
10. Her parents are both in show business.
Her father is a director and her mother is an actress so it's fair to assume that it's in her blood to act and that she might not have needed any coercing or even a hint of anything resembling goading to become interested in stepping into the spotlight.
9. She has a modest following on social media.
In some ways it seems great to have thousands upon thousands of people that want to follow your career, but it also seems a bit premature at times as some actors seem like genuine prospects that fizzle out sooner or later. We can hope that Angourie doesn't follow this trend.
8. She was in The Beguiled.
A woman spurned is a dangerous creature indeed as is discovered by an injured Union soldier that accepts the kindness of the women in this film and then plays upon it to get what he wants. In return the women decide to heal him as best they can and then in a stunning decision, well not stunning but kind of devious, they kill him with poisoned mushrooms and then dump his body alongside the road for Confederate soldiers to find. That kind of payback is the work of a mind that is unforgiving and unfortunately somewhat justified since the soldier did take advantage of their kindness in a rather upsetting way.
7. She was in Spider-Man: Homecoming.
She doesn't have one of the biggest roles but as I'm always saying, being there is one of the biggest points and it does help one's career to be able to say that they were in a big movie and can prove it with evidence.
6. She's going to be in the next Spider-Man movie.
It's likely that a few people will be coming back for the next Spider-Man since continuity is important even though it's not always there. How all that's going to play out though is going to depend on how Avengers 4 turns out. Of course Peter Parker is coming back, but the end of Avengers 4 will determine a lot in how he matures.
5. She's 17 years old.
So despite having been in the business for a while she's still pretty young and has a lot of living to do so if she does take a break here or there to experience life it won't be too surprising, she's got a lot of time to perfect her craft.
4. Her career started in 2007.
It was definitely a big mix of talent that emerged back in the 2000s since there were adolescents, kids, and adults, just like in any decade, that were making their way to prominence in films and TV, and now it seems as though their time to really shine and take over is coming.
3. She doesn't have many TV credits.
Angourie has definitely focused more on movies than on TV. Maybe the pay is better for movies or maybe she doesn't want to get bogged down in a longstanding job that will require her to stay on for so many episodes. It's hard to say really.
2. She was in The Nice Guys.
A comedy thriller starring Russell Crowe and Ryan Gosling doesn't seem like it should work even theoretically but somehow they seem to be a good pair as they kind of pull of this movie, and Angourie provides a nice counterpoint to their awkward partnership.
1. She's considered to be a star on the rise.
This is probably going to be said more than once as she gets older and starts taking on more and more roles and it's a hope that she'll live up to it and be able to see her career soar to the heights she wants.
Really, keep your eye on this young woman, she seems to be going places.