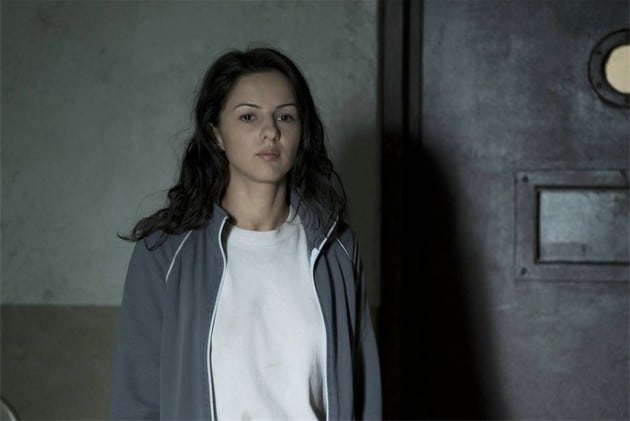 Though manipulation has been a key component of The Americans since the series began, characters outside of the KGB and FBI are beginning to learn and become more aware of when manipulation is occurring and how to take the upper-hand. Those who don't catch on as quickly will most likely be left in the dust, used and thrown away whenever it's convenient.
Perhaps the best place to begin with "Dimebag" is its end, focusing on the interactions between Philip (as Jim) and Kimberly. It may be easy to just assume that Philip is always going to have the advantage in this case, since he's both more experienced and more mature, but the levels of manipulation are much more interesting than Philip simply knowing how to handle the situation. He does make Kimberly look like a novice, to be sure, but her body language and dialogue is every bit the level of convincing that she's trying to achieve. She introduces the idea of her being cold so that Jim will clock it, and then she stands up to dance when he doesn't offer her a place next to him. The exploitation of the body has been a recurring aspect of The Americans, but whereas other series generally use that device to show the person being exploited as the dominated, The Americans often reverses the situation and allows the exploited to be the one carrying out the domination. It just so happens that Philip is operating at a deeper level than Kimberly, but she does exactly that–creates control by putting herself into a vulnerable position. And she also gets what she wants, which is Jim's arm wrapped around her shoulder.
Later, other characters not as experienced in the art of manipulation get caught in unfortunate circumstances in which the person they are interacting with gets the better of them. The Americans continues to use Nina in smart ways that shows off Annet Mahendru's acting abilities, and seeing Nina be active in trying to earn the trust of her cellmate is among the best "Dimebag" has to offer. Aware of the long game, Nina doesn't probe her cellmate but instead puts herself out there, giving information about a past she's made up for a different life than the one she's lived. Again, appearing vulnerable works best, so Nina feigns a nightmare and wakes up screaming and crying. As the hand of her prey gently caresses her face, Nina can't quite hold in the smirk that comes with the satisfaction of doing well. From the cellmate's perspective, trying to make Nina feel guilty for being so callous must make this experience feel like a breakthrough–as if she's broken down Nina's exterior and has earned an ally. But compared to Nina, she knows nothing about allies and enemies and how to define them and is on-course to be tossed to the wolves.
One of the more interesting elements of "Dimebag" as far as control goes is Paige's birthday dinner, which doesn't go down as expected for Elizabeth and Philip. Both characters have made efforts to get on Paige's good side as she's been pulling away from the kind of person she used to be only a couple years ago. They try to support her when possible and pretend to when they don't. So, when the cold open leaves them pretty much mouth agape as Paige says she wants her pastor and his wife over as the only guests, they grit and bear it, politely asking what she wants to eat. It's a bit pitiable seeing the Jennings, who are such fantastic spies and liars, look so helpless and exposed when they're interacting with Paige. She knows exactly what they're trying to do, and that's clear to the viewer as well. And just when they think they've made some progress as allies, to use the term again, for her, she drops the idea of the baptism, showing that the whole thing was actually Paige being able to manipulate to get her way. It's not manipulation born out of malice; Paige isn't portrayed as a bad person for setting up her parents here. The sequence merely shows that she's able to see the best plausible scenario to get the result she sees as the most desirable. Had she approached her parents without the support of her pastor and on any day that wasn't her birthday, her chance at success would have seen a significant drop or else she would have to do the baptism without their consent, which is something she still seems to prefer not to do.
And, finally, Stan and Sandra's conversation outside shows manipulation in a different light–slightly unintentional. Even though we see Stan in this episode lose a bit of self-control as he begins to doubt the claims made by the Soviet refugee, his decision to be honest with Sandra doesn't come off in a way that convinces me he's trying to hurt her. He says as much, anyway, and the confession genuinely seems like part of his healing. Of course, it's impossible for Sandra not to be hurt and look at him as someone either trying to win her back or make her feel bad, but this is one of Stan's most vulnerable moments for the viewer. Regardless of Stan's intentions behind putting everything out there, it's important that he's able to go to Sandra's new home–a place she should feel comfortable–and step into the power position, causing her to back down instead of basically throwing him out like last time. Sometimes, honesty is an ironic pathway to manipulation, which seems to be the case in this instance. Unfortunately, no one in The Americans seems to be able to escape these situations, regardless of whether they're on the receiving end or not.
Covert Observations:
– "Who wears the pants in that family?" Hey, if Elizabeth knew Martha, she might not underestimate her as much.
– "What about him? He's here." Stan trying to get out of participating in an exercise he sees as silly. Fortunately for us, he does participate and Noah Emmerich knocks it out of the park. It's great to see Stan let loose once in a while.
– Touching on that, there's certainly plenty to be said about The Americans in general that parallels how Stan is searching that bathroom, looking for something that might not even be there. All in all, a great episode for The Americans' third character.
[Photo via FX]